Posted in
Amazon Pre-orders
,
Anchor Bay
,
Blu-ray
on December 9th, 2013 by Dave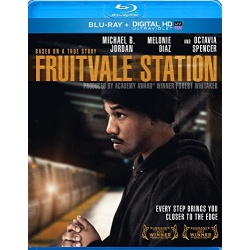 Fruitvale Station has just been announced by Anchor Bay Entertainment for release on Blu-ray Disc January 14th, 2014.
The movie is a biographical drama film based on the true story of  a young man who was killed by a BART police officer.
The names of the officers were changed for the film.
Fruitvale Station won the Grand Jury Prize and the Audience Award for U.S. dramatic film at Sundance.
It also won the award for Best First Film in the Un Certain Regard section at the 2013 Cannes Film Festival.
The cast includes Michael B. Jordan, Melonie Diaz, Kevin Durand and Octavia Spencer.
Fruitvale Station was the first feature film written and directed by Ryan Coogler.
The critical response to the film was very positive, with a Rotten Tomatoes score of 94% and an IMDb score of 7.7/10.
Fruitvale Station took in $16.1M at the US box office.
Planned features for the disc include an 1080p encode presented at 1.78:1 with lossless 5.1 DTS-HD Master Audio.
The retail price is $39.99, or pre-order it from Amazon for $27.99, saving 30%!
Alternatively you can add it to your Blu-rayStats Wishlist.
Synopsis:
Filmmaker Ryan Coogler makes his feature directorial debut with this drama centered on the tragic shooting of Oscar Grant (Michael B. Jordan), a vibrant 22-year-old Bay Area father who was senselessly gunned down by BART officers on New Year's Day in 2009, and whose murder sent shockwaves through the nation after being captured on camera by his fellow passengers. Academy Award winner Octavia Spencer, Melonie Diaz, and Kevin Durand co-star.