Posted in
4K
,
Action
,
Adventure
,
Atmos
,
Blu-ray
,
Pre-orders
,
Sony
,
Western
on November 7th, 2016 by Dave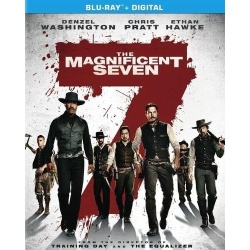 The Magnificent Seven has been announced by Sony Pictures Home Entertainment, scheduled for a December 20th, 2016 release.
Nic Pizzolatto and Richard Wenk wrote the screenplay based on the 1960 western film.
That film was in turn was a remake of the 1954 Japanese film Seven Samurai.
It is the story of a town who hires a group of seven mercenaries and outlaws to help them against a corrupt industrialist.