Posted in
Blu-ray
,
Commentary
,
Crime
,
Criterion
,
Drama
,
Film Noir
,
Mystery
,
Romance
,
Thriller
on May 13th, 2016 by Dave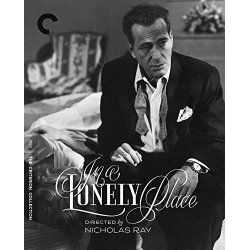 A key classic film release this week was the Criterion Collection's In a Lonely Place – on Blu-ray Disc May 10th, 2016.
This 1950 film noir features Humphrey Bogart and Gloria Grahame, and is based on the novel by Dorothy B. Hughes.
Bogart stars as Dixon Steele, a troubled screenwriter suspected of murder, and Grahame is Laurel Gray, a neighbor who falls for Steele's charm.
Bogart's performance is considered by many critics to be among his finest.