Posted in
Atmos
,
Blu-ray
,
Commentary
,
Drama
,
Mystery
,
Sci-Fi
,
Science Fiction
,
Thriller
,
Warner
on January 23rd, 2018 by Dave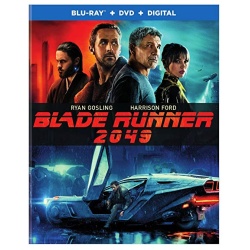 Science fiction fans will love the new Blade Runner 2049 Blu-ray release from Warner Home Video on January 16th, 2018.
Hampton Fancher and Michael Green wrote the screenplay for this stylish Sci-Fi thriller.
The film is of course a sequel to the 1982 film Blade Runner.
The story is set some thirty years later, where 'Blade Runner' LAPD Officer K  uncovers secrets that threaten the peace between humans and replicants.