Posted in
Amazon Pre-orders
,
Blu-ray
on March 2nd, 2013 by Dave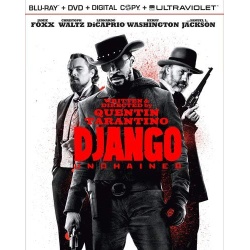 April 16th, 2013 will mark the arrival of the new Weinstein Company/Anchor Bay Blu-ray release for Quentin Tarantino's Django Unchained.
The movie is an epic western where a freed slave teams up with a bounty hunter to rescue his wife.
The film was nominated for five Academy Awards and won for Best Supporting Actor (Christoph Waltz) and Best Original Screenplay for the writer/director Quentin Tarantino.
The cast includes Jamie Foxx, Christoph Waltz, Leonardo DiCaprio, Kerry Washington, Samuel L. Jackson, Walton Goggins, Dennis Christopher and James Remar.
Django Unchained director Quentin Tarantino has had a celebrated career with films like Reservoir Dogs, Death Proof, Inglourious Basterds, Kill Bill: Volume 1, Kill Bill: Vol. 2, Pulp Fiction, and Jackie Brown.
The critical response to the film was very positive, with a Rotten Tomatoes score of 88%, and an IMDb score of 8.6/10.
Django Unchained was also huge at the cinema, reaching $159.6M at the US box office.
This release will include a DVD and a Digital Copy.
The retail price is $39.99, or pre-order it from Amazon for $22.99, saving 43%!
Alternatively you can add it to your Blu-rayStats Wishlist.
Synopsis:
Django (Academy Award winner Jamie Foxx) a former slave-turned-hired gun heads back to the plantation to free his wife, Broomhilda (Kerry Washington), from a tyrannical plantation owner Calvin Candie (Academy Award nominee Leonardo DiCaprio),with the help of a German bounty hunter Dr. King Schultz (Academy Award winner Christoph Waltz).