Posted in
Adventure
,
Atmos
,
Blu-ray
,
Commentary
,
Lionsgate
,
Sci-Fi
,
US Releases
on March 12th, 2015 by Dave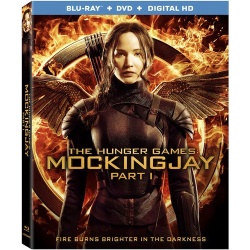 The Hunger Games: Mockingjay – Part 1 is the hottest new Lionsgate Home Entertainment Blu-ray title – released on Friday March 6th, 2015.
The sci-fi war film was adapted by Peter Craig and Danny Strong, based on The Hunger Games trilogy by Suzanne Collins.
It is the third installment in The Hunger Games film series, and the first of two films based on the third book of the trilogy.
The story continues to follow Katniss Everdeen, who finds herself in District 13.