Posted in
Blu-ray
,
Commentary
,
Paramount
on May 22nd, 2014 by Dave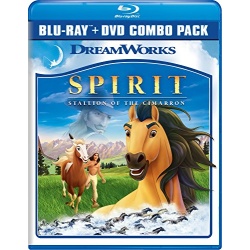 Paramount is digging into their DreamWorks catalog with Spirit: Stallion of the Cimarron, released on Blu-ray Disc by DreamWorks Home Entertainment on May 13th, 2014.
This 2002 American animated western film follows the adventures of a young Kiger mustang stallion in the wild west.
In this movie, Spirit and the other horses communicate with each other through natural sounds and body language, as opposed to simply speaking English, as they do in other animated films.