Posted in
3D
,
Action
,
Atmos
,
Blu-ray
,
Blu-ray 3D
,
Crime
,
Pre-orders
,
Sport
,
Thriller
,
Warner
on February 24th, 2016 by Dave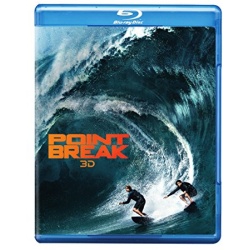 The Point Break Blu-ray 3D release has been announced by Warner Home Video for March 29th, 2016.
This action thriller was written by Kurt Wimmer, and is a remake of the 1991 film of the same name that featured Patrick Swayze and Keanu Reeves in the lead roles.
Again the story features an FBI agent who attempts to infiltrate a group of extreme athletes who are suspected of carrying out audacious crimes, and use their skills to evade capture.