Posted in
3D
,
Action
,
Adventure
,
Blu-ray
,
Blu-ray 3D
,
Disney
,
Fantasy
,
Pre-orders
,
Sci-Fi
,
Science Fiction
on August 11th, 2016 by Dave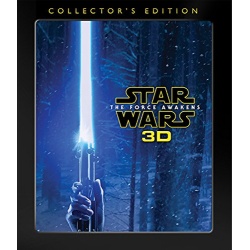 Be sure to watch for the upcoming Walt Disney Studios Home Entertainment Collector's Edition Blu-ray 3D release Star Wars: The Force Awakens on November 15th, 2016.
This latest addition to the Star Wars franchise was directed, co-produced, and co-written by J. J. Abrams.
It is the seventh installment in the main Star Wars film series.
The Force Awakens is set 30 years after Return of the Jedi.