Posted in
3D
,
Action
,
Adventure
,
Amazon Pre-orders
,
Blu-ray
,
Blu-ray 3D
,
Paramount
,
US Releases
on September 26th, 2014 by Dave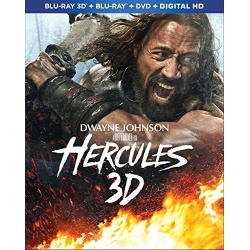 Hercules 3D has been announced by Paramount Home Entertainment, scheduled for a Blu-ray 3D release on November 4th, 2014.
This action adventure film is based on the graphic novel Hercules: The Thracian Wars, and is also one of two Hollywood-studio films involving the Hercules character released in 2014.
The lead role was played by Dwayne Johnson, who reportedly took on a grueling training routine and lived alone in Budapest for 6 months while filming.
Additionally the cast includes Ian McShane, Rufus Sewell, Joseph Fiennes, Peter Mullan and John Hurt.
Hercules 3D was directed by Brett Ratner, who also helmed Red Dragon, Rush Hour, X-Men: The Last Stand, Rush Hour 3, The Family Man, and Tower Heist.
The film was mostly well received by critics with a Rotten Tomatoes score of 60% and an IMDb score of 6.4/10.
Hercules 3D did ok in the cinema, earning $99.1M at the US box office, which was roughly the same as the budget for the film.
Planned features for the disc include an MVC 1080p stereo video encode, and it is one of the few new releases to feature Dolby Atmos, which will downmix to 7.1 Dolby TrueHD on regular systems.
An audio commentary, an extended cut, deleted scenes and a collection of featurettes are also planned.
The retail price is $54.99, and you can pre-order it from Amazon for $24.99, saving 55%!
Alternatively you can add it to your Blu-rayStats Wishlist.
Extras:
Theatrical Cut with Commentary by director Brett Ratner and producer Beau Flynn
Extended cut in high definition
Brett Ratner and Dwayne Johnson: An Introduction
Hercules and his Mercenaries—Delve into the story behind the team assembled by Hercules for his perilous missions and the skills required of them.
Weapons!—Exploration of the weapons created for the spectacular action scenes, including training with the actors.
The Bessi Battle—Discover how one of the major action sequences of the film was created with the filmmakers, actors, stunt team, make-up effects and more.
The Effects of Hercules—A behind-the-scenes look at the film's spectacular visual effects.
15 Deleted/Extended Scenes
Synopsis:
Dwayne Johnson delivers an unforgettable performance as THE MIGHTY HERCULES! When a terrifying new enemy threatens the innocent, Hercules and his fearless team of warriors must lead their army in a battle against overwhelming odds. It will take the strength of a god for Hercules to overcome his past and conquer his foes in the epic adventure that critics are calling "fast-paced and packed with eye-popping action!" (Elizabeth Weitzman, New York Daily News)