Posted in
Blu-ray
,
Comedy
,
Commentary
,
Crime
,
New Line
,
Warner
on August 7th, 2017 by Dave
Warner Home Video kicked off August with the Blu-ray release for Going in Style on August 1st, 2017.
Theodore Melfi wrote the screenplay for this crime heist comedy film.
The movie is loosely based on the 1979 film of the same name.
The story follows retirees who plan to rob a bank after their pensions are cancelled.
The film received mixed reviews and grossed $84 million worldwide.
Going in Style the Movie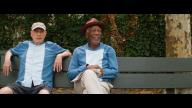 Joe, Willie, and Albert are senior citizens and lifelong friends living in New York, all former employees of a local steel plant.
During an appointment at his bank, Joe witnesses a robbery carried out by three individuals wearing black masks.
The robbers escape capture, taking over $1.6 million.
When the steel company they worked for is bought out by foreign interests, their pension fund become a casualty of the restructuring.
Joe's mortgage is in arrears and the bank plans to foreclose in 30 days, leaving Joe, his daughter, and granddaughter homeless.
Willie is gravely ill from kidney failure and needs a transplant to live much longer.
All in desperate financial need, perhaps the answer lies in the robbing the bank that is helping their former employer steal their pension fund.
Going in Style – My Thoughts
The great thing about Going in Style is that it delivers on what it promises in the trailer.
We are promised a caper movie about three elderly men hatching a plan to rob a bank, and the movie gives us exactly that, with all the class and style you could hope for.
The mood is kept light throughout and the screenplay features a number of twists as the movie reaches its conclusion.
The casting is exceptional, with Morgan Freeman, Michael Caine, and Alan Arkin doing their thing as lifelong friends, each with a different charm.
I have to say it is a pleasure seeing these three greats together in one film.
The mood of the film is typically light and fanciful, though there are scenes that artfully convey the weight of the situation these men find themselves in, with their pensions cancelled.
All in all I found the movie to be a delightful crime comedy, one that I recommend to folks looking for something fun but different from Hollywood's typical fare.
Going in Style Cast, Crew and Performance
Along with Freeman, Caine, and Arkin, the cast includes Joey King, Matt Dillon, Christopher Lloyd, Ann-Margret and Peter Serafinowicz.
Going in Style was directed by Zach Braff, who was most famous for starring in Scrubs, but was also behind the films Garden State and Wish I was Here.
Reviews for the film were mixed with a Rotten Tomatoes score of 46%.
The public response to the film tended towards the positive with an IMDb score of 6.7/10, which aligns more closely with my take on it.
Going in Style was quite successful in the cinema though, taking in $45M at the US box office against a $25M budget, for a total over $84M worldwide.
Going in Style on Blu-ray Disc
The video on the disc is an AVC 1080p encode at 32 Mbps, and is presented in its original aspect ratio of 2.40:1.
Again with a nice high bitrate from Warner, this crime comedy looks visually crisp and clean.
The film has a rather natural style and colour palette, looking solid throughout.
See the details page for Going in Style for full resolution PNG screen captures taken directly from the disc.
The main audio is lossless 5.1 DTS-HD Master Audio with 24-bits resolution at 48 kHz.
The disc is a dual layer BD50, with 33.5 GB used and is coded for All Regions.
Going in Style Blu-ray – The Bonus Features
Warner has put just a couple of supplemental features in the Blu-ray release for Going in Style.
Deleted Scenes – 13:11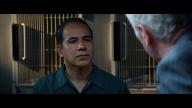 A selection of 11 deleted scenes which were cut from the film.
None were especially notable except perhaps the scene with Albert and Annie on a date.
Director Commentary by Zach Braff
The commentary opens with a confession from Braff that this movie was his first big studio film after working in indie cinema for so long.
Working with Morgan Freeman, Michael Caine, and Alan Arkin was obviously a highlight for Braff.
He talks a lot about the film making craft, and offers insight into how many of the scenes were shot and what effects were used.
It is interesting how many digital effects are used in what seems like a practically show film.
While a pretty mellow affair, this commentary is a great one for aspiring film makers, or those with an interest in the field.
This release includes a DVD Copy for legacy players and an UltraViolet Digital Copy code.
Going in Style Blu-ray – Final Thoughts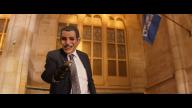 Going in Style is a a fun crime caper comedy that delivers on its promise, taking advantage of the excellent cast.
Warner Home Video has put together a fairly bare bones Blu-ray release that features a solid technical presentation.
The retail price is $35.99, though you can get it at Amazon for $22.99, saving 36%!
Going in Style Blu-ray Extras:
Deleted Scenes
Director Commentary by Zach Braff
Going in Style Blu-ray Synopsis:
Oscar winners Morgan Freeman, Michael Caine and Alan Arkin team up as lifelong buddies Willie, Joe and Al, who decide to buck retirement and step off the straight-and-narrow for the first time in their lives when their pension fund becomes a corporate casualty, in director Zach Braff's comedy Going In Style.