Posted in
Blu-ray
,
Commentary
,
Drama
,
Thriller
,
Warner
on August 6th, 2017 by Dave
Unforgettable is a new dark thriller unleashed by Warner Home Video with a July 25th, 2017 Blu-ray release.
Christina Hodson wrote the screen play for this psychological thriller.
The story follows a divorcée who begins to torment the new fiancé of her ex-husband.
Things get out of hand when an abusive ex-boyfriend is thrown into the mix.
Notably the movie has a female director and two female lead characters.
Unforgettable the Movie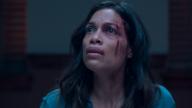 The film opens with a battered and bruised Julia Banks being questioned in the murder of her psychotic ex-boyfriend Michael.
Julia is bewildered by instant-message conversations and other evidence indicating that Julia had invited him back into her life and home.
The film then cuts to six months earlier, where Julia is leaving her job in San Francisco to move in with her fiancée David Conover in Southern California.
At the house she meets David's ex-wife Tessa, who is secretly having trouble coping with the end of her marriage.
David and Tessa's daughter Lilly often brings Tessa into Julia's life, and while Julia tries to be friends, Tessa remains cold and at times antagonistic.
When Julia then gets a notification that her restraining order against her abusive ex-boyfriend Michael has expired, she is upset and starts imagining that she sees him.
As Tessa's determination to drive a wedge between Julia and David increases, she discovers Julia's history with Michael, and hatches a plot to get rid of Julia once and for all!
Unforgettable – My Thoughts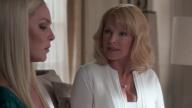 Unforgettable is intended to be an intense thriller where a woman goes to extreme lengths to get her life back the way it was.
Unfortunately I don't think that the final product lived up to the expectations of the cast and crew.
As with a number of films recently, the movie opens with a flash forward that reveals the future, and I am not sure that it was the best choice in this movie.
While designed to pique the audience's interest, I think it gives away far too much.
As a result, the bulk of the movie featuring the events that lead up to it become quite slow and tedious.
Once we reach the showdown between the two women, the film delivers much closer to expectations, but unfortunately it takes a long time coming.
In a number of ways I feel like the movie could have been an important statement in modern Hollywood.
The story is very much about the two main female characters, and main male character feels like shallow eye candy.
This gender role reversal had a lot of promise, and would have been a great step forward for gender equality.
Under scrutiny here is the situation when a woman's identity which is grounded in her relationship with a man.
Once the relationship fails, the woman is lost and fights to find herself in her new situation.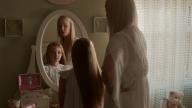 All in all it could have been a strong feminist piece had the film been stronger in the first two acts.
As it stands I think if you are willing to see it through, the film has its rewards, but many will give up long before the good part.
Unforgettable Cast, Crew and Performance
The cast includes Katherine Heigl, Rosario Dawson, Geoff Stults, Simon Kassianides, Whitney Cummings, Jayson Blair, Robert Wisdom and Cheryl Ladd.
Unforgettable was directed by Denise Di Novi in her directorial debut.
The movie received predominantly negative reviews with a Rotten Tomatoes score of 26%.
It didn't do much better with the public, earning an IMDb score of 4.9/10.
Unforgettable had a quiet run in the cinema, taking in $11.4M at the US box office for an international total close to $18M, against a budget of just $12M.
Unforgettable on Blu-ray Disc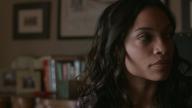 The video on the disc is an AVC 1080p encode at 33 Mbps, and is presented at 1.78:1 aspect ratio, filling the HDTV screen.
Other considerations aside, technically Unforgettable is a pretty good looking film.
The high bitrate transfer presents crisp images and a distinct colour palette that seems to highlight Katherine Heigl's character.
See the details page for Unforgettable for full resolution PNG screen captures taken directly from the disc.
The main audio is lossless 5.1 DTS-HD Master Audio with 24-bits resolution at 48 kHz.
The disc is a dual layer BD50, with 34.2 GB used and is coded for All Regions.
Unforgettable Blu-ray – The Bonus Features
The Blu-ray release for Unforgettable has a few supplements, which is surprising for a low budget and ultimately low box office title.
Reclaiming What's Yours: Making Unforgettable – 10:09
The film makers and cast talk about the movie and its inspirations.
The role of being at the end of a marriage or being the new woman integrating into a family is increasingly common for women.
The motivations for both the 'good' and 'evil' characters are revealed throughout the film.
The final conflict between the two main characters is also given close attention here.
Director's Commentary
The film can be viewed with a director commentary, which is scene specific and talks a lot about the characters' motivations.
Di Novi doesn't talk much about the film making process, revealing more about the emotional motivations of the characters.
It is interesting to hear some of the impressions of the director that didn't really play to the audience.
It is a nice touch that the subtitles come on during the commentary, making the film easier to follow.
Deleted Scene with Commentary – 2:06
There is one deleted scene that shows how happy David and Julia are together, that no doubt would have had trouble fitting in with the somber tone of the movie.
The scene can be watched either with director commentary or without it.
There are trailers for upcoming movies like Dunkirk and the new Bladerunner movie.
There is also a DVD copy for legacy players, and an UltraViolet Digital Copy code.
Unforgettable Blu-ray – Final Thoughts
Unforgettable is a mixed bag of a thriller that is notable mainly for its female protagonists.
Warner Home Video has assembled a Blu-ray release with a solid transfer, and even included a small collection of extras to supplement the release.
The retail price is $35.99, though you can get it at Amazon for $22.99, saving 36%!
Unforgettable Blu-ray Extras:
Reclaiming What's Yours: Making Unforgettable
Director's Commentary
Deleted Scene with Commentary
Unforgettable Blu-ray Synopsis:
Heigl stars as Tessa Connover, who is barely coping with the end of her marriage when her ex-husband, David (Stults), becomes happily engaged to Julia Banks (Dawson) not only bringing Julia into the home they once shared but also into the life of their daughter, Lilly (Isabella Rice). Trying to settle into her new role as a wife and a stepmother, Julia believes she has finally met the man of her dreams, the man who can help her put her own troubled past behind her. But Tessas jealousy soon takes a pathological turn until she will stop at nothing to turn Julias dream into her ultimate nightmare.