Posted in
Blu-ray
,
Comedy
,
Commentary
,
New Line
,
Warner
on June 6th, 2017 by Dave
Warner Home Video closed out May with the R rated comedy Fist Fight on Blu-ray Disc May 30th, 2017.
Van Robichaux and Evan Susser wrote the screenplay for the film that features Ice Cube and Charlie Day.
The premise of the movie is that one teacher challenges another to an after-school fight.
The film premiered in Los Angeles on February 13, 2017 and grossed $41 million worldwide.
Fist Fight the Movie
On the last day before summer vacation, Roosevelt High School students are out of control with elaborate senior pranks.
However, History teacher Ron Strickland is fierce enough to intimidate most of his students into behaving.
Meanwhile the teachers also face rumors of downsizing of all departments.
When English teacher Andy Campbell helps Strickland troubleshoot the AV system, he catches a student using a remote control app to turn off the VCR.
Strickland becomes enraged and destroys the student's desk with a fire axe, sending the class screaming from the room.
Principal Tyler talks to Campbell and Strickland to get to the bottom of the matter, and when he threatens to fire them both if no one steps forward, Campbell reveals what happened.
Strickland loses his job, and in retaliation challenges Campbell to a fist fight after school.
Campbell spends the rest of the day trying to find a way to get out of the fight – but can he escape this destiny?
Fist Fight – My Thoughts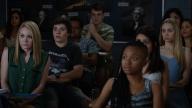 Fist Fight is the latest in a series of R rated comedy films, and for the most part delivers on its premise.
The tone of the movie is decidedly adult, with plenty of references to drugs, sex and inappropriate teacher student relationships.
While the film is a pretty solid entry, one's enjoyment depends a lot on how much one can handle from the lead Charlie Day.
He tends to have an annoying quality in my opinion, which makes listening to him for a feature length film a challenge for me.
Nonetheless Day is offset by Ice Cube, who stands out as an excellent tough guy teacher who never compromises.
Go into this expecting a bunch of crass humour and a lot of Charlie Day on screen – if this works for you, this film is a great choice.
I definitely enjoyed it overall, despite not being a huge fan of Day's work.
Fist Fight Cast, Crew and Performance
Along with Ice Cube and Charlie Day, the cast includes Tracy Morgan, Jillian Bell, Christina Hendricks, Kumail Nanjiani, Kym Whitley and Dean Norris.
Fist Fight was directed by Richie Keen.
The film was met with largely negative reviews, with a Rotten Tomatoes score of 27%.
It did somewhat better with the public, earning an IMDb score of 5.7/10.
Fist Fight had a decent run in the cinema, taking in $32.2M at the US box office.
Fist Fight on Blu-ray Disc
The video on the disc is an AVC 1080p encode at 33 Mbps, and is presented at 1.78:1 aspect ratio, filling the HDTV screen.
The picture quality is actually really good on this release, with some of the close up shots showing amazing clarity.
As a comedy the film is for the most part pretty naturally lit, and features strong contrasts and a natural palette.
Find full resolution PNG screen captures taken directly from the disc at the details page for Fist Fight.
The main audio is lossless 5.1 DTS-HD Master Audio with 24-bits resolution at 48 kHz.
The disc is a dual layer BD50, with 33.6 GB used and is coded for All Regions.
Fist Fight Blu-ray – The Bonus Features
Deleted Scenes – 15:23
A significant collection of deleted scenes offers a look at some of the comedic scenes that didn't make the cut.
There are some funny bits here, but most wouldn't be missed.
A number of outtakes are presented at the end.
There is also a short promo for shooting films in Georgia.
This release includes a DVD Copy for legacy players and an UltraViolet Digital Copy code.
Fist Fight Blu-ray – Final Thoughts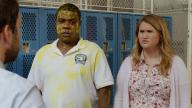 Fist Fight is a fairly enjoyable R rated comedy which will appeal to fans of adult humour with a leaning towards the crass.
Warner Home Video has put together a technically strong Blu-ray release with the minimum of supplemental features.
The retail price is $35.99, though you can get it at Amazon for $22.99, saving 36%!
Fist Fight Blu-ray Extras:
Fist Fight Blu-ray Synopsis:
On the last day of the year, mild-mannered high school English teacher Andy Campbell (Day) is trying his best to keep it together amidst senior pranks, a dysfunctional administration and budget cuts that put jobs on the line. But things go from bad to worse when he accidentally crosses his much tougher and deeply feared colleague, Ron Strickland (Cube), who challenges Campbell to an old-fashioned throw down after school. News of the fight spreads like wildfire and ends up becoming the very thing this school, and Campbell, needed.