Posted in
Action
,
Adventure
,
Atmos
,
Blu-ray
,
Comedy
,
Commentary
,
Family
,
Fantasy
,
Paramount
,
Sci-Fi
,
Science Fiction
on April 14th, 2017 by Dave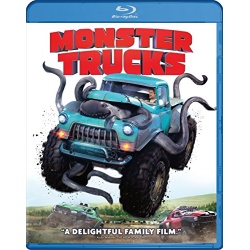 This week I am taking a closer look at the Paramount Home Entertainment family movie Monster Trucks, released on Blu-ray Disc April 11th, 2017.
This action-comedy film was written by Jonathan Aibel, Glenn Berger, Derek Connolly and Matthew Robinson.
The story follows a high-schooler who finds an escaped monster living in his truck.
The film received mixed reviews, and grossed just $84 million worldwide against its $125 million budget.
Monster Trucks the Movie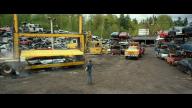 The film opens with Terravex Oil fracking in North Dakota, when three subterranean creatures come to the surface and destroy the drilling rig.
Two are captured by Terravex security, but one of them escapes the work site.
Meanwhile a high school senior named Tripp has taken up a part time job at a local junkyard and has started rebuilding an old pickup truck.
Tripp encounters the missing creature in the junkyard, but it escapes before the authorities arrive.
The next day he finds that the creature consumes oil, and it takes shelter in the engine bay of his truck.
Tripp becomes friends with the monster, naming him Creech and modifying the truck to give Creech the power to control and drive it.
Meanwhile Terravex are still trying to find Creech in order to cover up the incident and the existence of this previously undiscovered life form.
Can Tripp, Creech, and their friends save the other two creatures and return them all safely to their kind?
Monster Trucks – My Thoughts
Monster Trucks is an entertaining family movie that incorporates the amusing idea that a specific type of creature could effectively power a 'Monster Truck'.
While there are some innovative concepts here, the title is a little groan inducing and we are bound by family movie rules.
So don't expect anything edgy here, or too surprising or complex.
The good guys are good guys – the bad guys are bad guys – and dorky kids fawn over the handsome rebel.
The movie is pretty light and has some genuinely funny moments.
There is very little on screen violence and when the bad guys get what they deserve, it happens outside of our view.
We are just left to assume that they are killed or in the very least pretty messed up.
All that aside, Monster Trucks actually delivers pretty well on its promise, and I think it is worth a look given the dearth of high budget family friendly films these days.
Monster Trucks Cast, Crew and Performance
The cast includes Lucas Till, Jane Levy, Amy Ryan, Rob Lowe, Danny Glover, Thomas Lennon, Barry Pepper and Holt McCallany.
Monster Trucks was directed by Chris Wedge, whose previous films were entirely animated, like Ice Age, Robots, and Epic.
The movie was met with largely negative reviews, with a Rotten Tomatoes score of 32%.
That said it saw a better public response, with an IMDb score of 5.6/10.
Monster Trucks was likely a disappointment in the cinema, taking in just $33.4M at the US box office, against an estimated $125 million budget.
Monster Trucks on Blu-ray Disc
The video on the disc is an AVC 1080p encode at 29 Mbps, and is presented in its original aspect ratio of 2.40:1.
The image quality is pretty great throughout, with a bright and colourful palette for the daylight scenes.
There are a number of night time sequences as well, but the pictures still hold up well.
All in all the transfer is a solid representation of the movie on Blu-ray Disc.
Check out the details page for Monster Trucks to see full resolution PNG screen captures taken directly from the disc.
The main audio is Dolby Atmos object based audio, with all the advantages that offers, including height.
The disc is a dual layer BD50, with 41.2 GB used and is coded for All Regions.
Monster Trucks Blu-ray – The Bonus Features
For a family movie, there are actually a pretty extensive collection of supplemental features.
Who's Driving the Monster Trucks? – 7:06
The cast and crew weigh in on the script and the possibilities that it holds.
We also see clips from the film and behind the scenes footage in this making-of featurette.
It is apparent that an exceptional amount of digital imagery was used in the making of the film, and the animators discuss this aspect as well.
The Monster in the Truck – 4:57
This segment focuses on the creation of the monster characters, which were completely computer generated.
The film created a number of unique challenges for the animation team to resolve.
Creating the Monster Truck – 6:29
The logistical challenges to visually represent the story elements of the monster in the truck are discussed here.
Director Chris Wedge talks about the conceptual difficulties, and the physical realization of the truck for the live action scenes.
The practical version of the truck was completely remote controlled and capable of many actions with no driver.
Gag Reel – 4:35
A long collection of outtakes, bloopers and spontaneity from the cast.
A number of the shots are shown without effects, so you get to see how some of the shots were achieved.
Deleted Scenes – 8:36
A selection of six deleted scenes that didn't make the final cut.
Again some of the scenes feature unfinished or partial effects, which is actually pretty interesting.
We also get to see more truck destruction in deleted action scenes.
Production Diaries – 10:13
A collection of production segments that delves into a number of key sequences for the movie.
A number of practical stunts were required to create the scenes.
Overall we have a pretty strong collection of supplements here for a family film.
This release includes an UltraViolet Digital Copy code that can also be used for iTunes.
Monster Trucks Blu-ray – Final Thoughts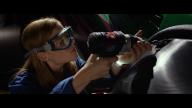 Monster Trucks is a pretty fun though somewhat predictable family friendly movie.
Paramount Home Entertainment has put together a clean, high bitrate Blu-ray transfer along with Dolby Atmos audio for a technically solid release, with over 40 minutes of extras.
The retail price is $39.99, though you can get it at Amazon for $19.99, saving 50%!
Monster Trucks Blu-ray Extras:
Who's Driving the Monster Trucks?
The Monster in the Truck
Creating the Monster Truck
Gag Reel
Deleted Scenes
Production Diaries
Monster Trucks Blu-ray Synopsis:
"Fasten Your Seatbelts: Monster Trucks is big big fun!" Tripp is a high school senior with a knack for building trucks who makes an incredible discovery – a gas-guzzling creature named Czech. To protect his mischievous new friend, Tripp hides Creech under the hood of his latest creation, turning it into a real-life super powered Monster Truck. Together, this unlikely duo with a shared taste for speed team up on a wild and unforgettable journey to reunite Creech with his family Monster Trucks is a fun-filled, hilarious and heartfelt adventure that never slows down.