Posted in
3D
,
4K
,
Adventure
,
Atmos
,
Blu-ray
,
Blu-ray 3D
,
Family
,
Fantasy
,
HDR
,
Pre-orders
,
Ultra HD
,
Warner
on February 6th, 2017 by Dave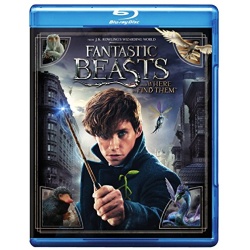 March 28th, 2017 will mark the arrival of the new Warner Home Video Blu-ray, 3D and 4K Ultra HD release for Fantastic Beasts and Where to Find Them.
The film is a spin-off of the Harry Potter series, and was written by J. K. Rowling in her screenwriting debut.
The movie features Eddie Redmayne as Newt Scamander.
Fantastic Beasts has grossed $810 million worldwide, making it the eighth highest-grossing film of 2016.
It has also been nominated for five BAFTAs and two Oscars.
Along with Redmayne, the cast includes Katherine Waterston, Dan Fogler, Alison Sudol, Ezra Miller, Samantha Morton, Jon Voight and Carmen Ejogo.
Fantastic Beasts and Where to Find Them was directed by David Yates, the man behind The Legend of Tarzan, Harry Potter and the Order of the Phoenix, and Harry Potter and the Deathly Hallows: Part 1 and Part 2.
The film received predominantly positive reviews, with a Rotten Tomatoes score of 73% and an IMDb score of 7.7/10.
Fantastic Beasts and Where to Find Them was a big success in the cinema, taking in $232.2M at the US box office.
Planned features for the disc include a 1080p video encode presented at 2.40:1, with Dolby Atmos object based audio soundtrack.
The Blu-ray 3D and 4K Ultra HD releases will also feature Dolby Atmos audio.
Supplements including deleted scenes and a slew of featurettes are also planned.
The retail price is $35.99, and you can pre-order it from Amazon for $24.99, saving 31%!
Alternatively you can add it to your Blu-rayStats Wishlist.
The Blu-ray 3D retail price is $44.95, pre-order it from Amazon for $29.99 (Blu-rayStats Wishlist).
The 4K Ultra HD set is also $44.95, at Amazon for $29.96 (Blu-rayStats Wishlist).
Fantastic Beasts and Where to Find Them Blu-ray Extras:
Before Harry Potter: A New Era of Magic Begins!: Join J.K. Rowling as she, David Yates and David Heyman return to Leavesden Studios to build a new and exciting corner of the wizarding universe.
Characters: The Magizoologist, The Goldstein Sisters, The New Salemers, The No-Maj Baker, The President and the Auror, Creatures
Meet the Fantastic Beasts: Bowtruckle, Demiguise, Erumpent, Niffler, Occamy, Thunderbird
Design: Shaping the World of Fantastic Beasts, New York City, MACUSA, Newt's Magical Case, The Shaw Banquet, The Blind Pig (360°)
11 Deleted Scenes
Fantastic Beasts and Where to Find Them Blu-ray Synopsis:
here are growing dangers in the wizarding world of 1926 New York. Something mysterious is leaving a path of destruction in the streets, threatening to expose the wizarding community to the No-Majs (American for Muggles), including the Second Salemers, a fanatical faction bent on eradicating them. And the powerful, dark wizard Gellert Grindelwald, after wreaking havoc in Europe, has slipped away…and is now nowhere to be found. Unaware of the rising tensions, Newt Scamander arrives in the city nearing the end of a global excursion to research and rescue magical creatures, some of which are safeguarded in the magical hidden dimensions of his deceptively nondescript leather case. But potential disaster strikes when unsuspecting No-Maj Jacob Kowalski inadvertently lets some of Newt's beasts loose in a city already on edge—a serious breach of the Statute of Secrecy that former Auror Tina Goldstein jumps on, seeing her chance to regain her post as an investigator. However, things take an ominous turn when Percival Graves, the enigmatic Director of Magical Security at MACUSA (Magical Congress of the United States of America), casts his suspicions on both Newt and Tina. Now allied, Newt and Tina, together with Tina's sister, Queenie, and their new No-Maj friend, Jacob, form a band of unlikely heroes, who must recover Newt's missing beasts before they come to harm. But the stakes are higher than these four outsiders — now branded fugitives — ever imagined, as their mission puts them on a collision course with dark forces that could push the wizarding and No-Maj worlds to the brink of war.