Posted in
4K
,
Atmos
,
Biography
,
Blu-ray
,
Drama
,
HDR
,
Pre-orders
,
Ultra HD
,
Warner
on November 21st, 2016 by Dave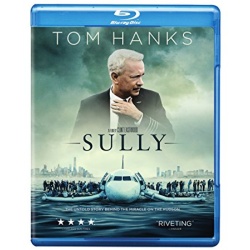 Sully has been announced by Warner Home Video, scheduled for a Blu-ray and Ultra HD release December 20th, 2016.
Todd Komarnicki penned the screenplay based on the autobiography Highest Duty by Captain Chesley "Sully" Sullenberger and Jeffrey Zaslow.
The film follows Sullenberger's emergency landing of a passenger jet on the Hudson River and the subsequent investigation.
All 155 passengers and crew survived the landing.
The cast features Tom Hanks as Sullenberger, along with Aaron Eckhart, Laura Linney, Jamey Sheridan, Anna Gunn, Valerie Mahaffey and Mike O'Malley.
Sully was directed by Clint Eastwood, whose body of work includes Million Dollar Baby, The Bridges of Madison County, Jersey Boys, Play Misty for Me, True Crime, American Sniper, and Midnight in the Garden of Good and Evil.
The movie has a very strong critical reception, with a Rotten Tomatoes score of 83% and an IMDb score of 7.8/10.
Sully was also a success in the cinema, taking in $124.1M at the US box office.
Planned features for the Blu-ray include a 1080p video encode presented at 2.40:1, with Dolby Atmos object based audio soundtrack.
The Ultra HD release will be 2160p with HDR, and also features Atmos audio.
A collection of supplemental featurettes is also planned.
The retail price is $35.99, and you can pre-order it from Amazon for $24.99, saving 31%!
Alternatively you can add it to your Blu-rayStats Wishlist.
Sully Blu-ray Extras:
Sully Sullenberger: The Man Behind the Miracle
Moment by Moment: Averting Disaster on the Hudson
Neck Deep in the Hudson: Shooting Sully
Sully Blu-ray Synopsis:
On January 15, 2009, the world witnessed the "Miracle on the Hudson" when Captain Sully Sullenberger (Hanks) glided his disabled plane onto the frigid waters of the Hudson River, saving the lives of all 155 aboard. However, even as Sully was being heralded by the public and the media for his unprecedented feat of aviation skill, an investigation was unfolding that threatened to destroy his reputation and his career.