Posted in
3D
,
4K
,
Atmos
,
Blu-ray
,
Blu-ray 3D
,
Fox
,
HDR
,
Lionsgate
,
Paramount
,
Sony
,
Ultra HD
,
Universal
,
Warner
on November 1st, 2016 by Dave
The release week November 1st Blu-ray Cover Art Gallery for 2016 features top title Star Trek Beyond from Paramount Home Entertainment.
You can also find Star Trek Beyond 3D and a 4K Ultra HD release for Star Trek Beyond this week, all with Dolby Atmos audio.
There is a Star Trek Beyond collector's edition and a Star Trek 3 Movie Collection for those who don't have the first two movies yet.
Universal Studios Home Entertainment has the comedy title Bad Moms and war film Anthropoid on Blu-ray Disc this week.
Watch for Sony Pictures Home Entertainment television titles this week, including Outlander: Season Two in regular release and a collector's edition for Outlander: Season Two.
Sony also has Hell on Wheels: Season 5 – Volune 2, along with the collection Hell on Wheels: The Complete Series.
Fox Home Entertainment has Kevin Spacey as a cat in Nine Lives this week, while Lionsgate has Danial Radcliffe in the crime thriller Imperium.
Also watch for the musical title Gypsy from Shout! Factory, and the nature documentary Forces of Nature from PBS Home Video this week.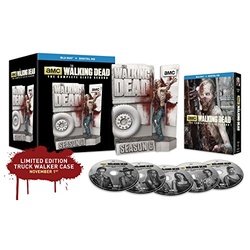 Click on any cover to see the details for the title.