Posted in
3D
,
Adventure
,
Animation
,
Blu-ray
,
Blu-ray 3D
,
Family
,
Fantasy
,
Pre-orders
,
Universal
on October 28th, 2016 by Dave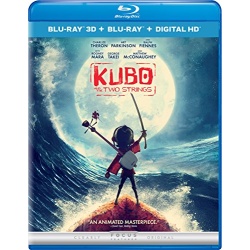 Kubo and the Two Strings has been announced by Universal Studios Home Entertainment, scheduled for a November 22nd, 2016 release.
Marc Haimes and Chris Butler wrote the screenplay for this stop-motion fantasy adventure.
The story follows Kubo, Monkey and Beetle as they battle the Sisters and Raiden the Moon King's army of evil spirits.
Kubo and the Two Strings is LAIKA's fourth animated feature film.
The voice cast includes Charlize Theron, Art Parkinson, Ralph Fiennes, Rooney Mara, George Takei and Matthew McConaughey.
Kubo and the Two Strings was directed by Travis Knight in his directorial debut.
The movie received great reviews, with a Rotten Tomatoes score of 97% and an IMDb score of 8.3/10.
Kubo and the Two Strings went on to earn $46.1M at the US box office.
Planned features for the disc include a stereo MVC 1080p video encode presented at 2.40:1, with lossless 5.1 DTS-HD Master Audio soundtrack.
This release will feature a director's commentary and a range of behind the scenes featurettes.
The retail price is $44.98, and you can pre-order it from Amazon for $29.99, saving 33%!
Alternatively you can add it to your Blu-rayStats Wishlist.
The regular Blu-ray retail price is $34.98, and at Amazon for $22.99 (Blu-rayStats Wishlist).
Kubo and the Two Strings Blu-ray 3D Extras:
Introduction by Director/Producer Travis Knight: Director/Producer Travis Knight introduces Kubo's Journey.
Mythological Monsters: The filmmakers and crew discuss the new techniques they used to create the terrifying antagonists. Learn how each monster differed in scale, design, and execution.
Braving the Elements: A particularly challenging aspect of filming was animating water and rain effects. Discover how LAIKA was able to animate water in the context of a stop-motion film.
The Redemptive and Healing Power of Music: Learn how traditional and contemporary musical styles were combined by Academy Award-winning composer Dario Marianelli (Atonement) to infuse the film with such a heartfelt sound.
Epilogue by Director/Producer Travis Knight: Director/Producer Travis Knight discusses what attracted LAIKA to Kubo and the Two Strings.
Japanese Inspiration: The LAIKA creative team and the cast discuss the inspirations for the story.
Corners of the Earth: Filmmakers and crew discuss the challenges of the varied landscapes and locations in Kubo and the Two Strings.
The Myth of Kubo: Cast and filmmakers discuss the story at the core of Kubo and the Two Strings.
Feature Commentary with Director/Producer Travis Knight
Kubo and the Two Strings Blu-ray 3D Synopsis:
From the acclaimed animation studio LAIKA (Coraline) comes an epic original action adventure featuring the voice talents of Academy Award winners Charlize Theron and Matthew McConaughey all in the wonder of 3-D! Kubo mesmerizes the people in his village with his magical gift for spinning wild tales with origami. When he accidentally summons an evil spirit seeking vengeance, Kubo is made to go on a quest to solve the mystery of his fallen samurai father and his mystical weaponry, as well as discover his own magical powers. Kubo and the Two Strings is "a wildly imaginative, magical adventure." – Scott Mantz, Access Hollywood