Posted in
3D
,
4K
,
Action
,
Adventure
,
Atmos
,
Blu-ray
,
Blu-ray 3D
,
HDR
,
Paramount
,
Pre-orders
,
Sci-Fi
,
Science Fiction
,
Thriller
,
Ultra HD
on September 22nd, 2016 by Dave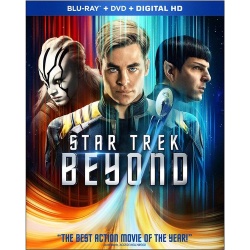 Star Trek Beyond has been announced by Paramount Home Entertainment, scheduled for a November 1st, 2016 release on Blu-ray, Blu-ray 3D, and 4K Ultra HD formats.
Amazon will also have an exclusive gift set that includes both 4K and Blu-ray 3D.
Simon Pegg and Doug Jung penned the screenplay, based on the series Star Trek created by Gene Roddenberry.
The film is the thirteenth film in the franchise and the third in the reboot series.
Chris Pine and Zachary Quinto return for their roles as Captain James T. Kirk and Commander Spock, with Pegg, Karl Urban, Zoe Saldana, John Cho, and Anton Yelchin also reprising their roles.
Idris Elba and Sofia Boutella are new to the cast for this installment.
The film is dedicated to the memory of Yelchin, who passed away a month prior to the film's release, as well as famed Star Trek actor Leonard Nimoy.
Star Trek Beyond was directed by Justin Lin, who is most famous for his work on the Fast & Furious franchise.
The movie received great reviews, with a Rotten Tomatoes score of 83% and an IMDb score of 7.4/10.
Star Trek Beyond was also a big success in the cinema, taking in $157.7M at the US box office and even more in international markets.
Planned features for the disc include a 1080p video encode Dolby Atmos object based audio soundtrack.
This Ultra HD release will mark the 50th Ultra HD title with Dolby Atmos audio!
Deleted scenes, a gag reel, and a wide range of featurettes are also planned.
Additional formats include DVD and UltraViolet Digital Copy.
The retail price is $39.99, and you can pre-order it from Amazon for $24.99, saving 38%!
Alternatively you can add it to your Blu-rayStats Wishlist.
The retail price for the Blu-ray 3D is $48.99, and you can pre-order that from Amazon for $29.99 (Blu-rayStats Wishlist).
You can also pre-order the 4K Ultra HD edition from Amazon for $29.99 (Blu-rayStats Wishlist).
The gift set with 4K and 3D can be pre-ordered from Amazon for $49.99 (Blu-rayStats Wishlist).
Star Trek Beyond Blu-ray Extras:
Deleted Scenes – Go Beyond the final cut of the movie with scenes you didn't see in theaters.
Beyond the Darkness – Meet visionary producer J.J. Abrams, director Justin Lin and co-writers Simon Pegg and Doug Jung as they discuss the inspiration for the Star Trek Beyond storyline and how it came to life.
Enterprise Takedown – Experience edge-of-your-seat action and see how a shocking attack destroys the USS Enterprise.
Divided and Conquered – Learn how filmmakers pushed the boundaries in Star Trek Beyond by forcing the Enterprise crew into their most challenging situations yet.
A Warped Sense of Revenge – Meet Star Trek's newest villain, Krall, as actor Idris Elba reveals the backstory behind his character's terrifying ambitions.
Trekking in the Desert – Go on set to Dubai and discover how its futuristic architecture became the foundation for the most innovative Starbase yet.
Exploring Strange New Worlds – Tour the incredible production sets of Star Trek Beyond with director Justin Lin.
New Life, New Civilizations – See how special effects designers met the challenge to create an unprecedented 50 new alien species for the film to celebrate Star Trek's 50th Anniversary.
To Live Long and Prosper – Journey through the past 50 years of Star Trek with J.J. Abrams and the cast as they reflect on the evolution of this iconic sci-fi series.
For Leonard and Anton – Watch a touching tribute to the legendary Leonard Nimoy and beloved crew member Anton Yelchin.
Gag Reel – Join in on the fun with this hilarious gag reel of on-set bloopers.
Star Trek Beyond Blu-ray Synopsis:
From Director Justin Lin and Producer J.J. Abrams comes one of the best-reviewed action movies of the year. Dispatched on a rescue mission to the farthest reaches of space, the USS Enterprise is ambushed by Krall, a ruthless enemy sworn against the Federation. Crash-landing on an uncharted hostile world, Captain Kirk, Spock and the crew are separated with no means of escape. Only Jaylah, a rebellious alien warrior, can help them reunite and find a way off the planet in a race against time to stop Krall's deadly army from triggering all-out galactic war.