Posted in
4K
,
Atmos
,
Blu-ray
,
HDR
,
Pre-orders
,
Sony
,
Thriller
,
Ultra HD
on August 31st, 2016 by Dave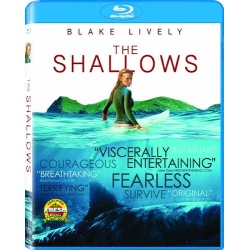 September 27th, 2016 will mark the arrival of the new Sony Pictures Home Entertainment Blu-ray and 4K Ultra HD release for The Shallows.
Anthony Jaswinski wrote the screenplay for this survival thriller.
The story follows a surfer that gets stranded off shore, only to face a great white shark attack.
The cast features Blake Lively in the primary role, along with Brett Cullen and Oscar Jaenada.
The Shallows was directed by Jaume Collet-Serra, who also directed films like House of Wax, Orphan, Unknown, Non-Stop, and Run All Night.
The film received predominantly positive reviews, with a Rotten Tomatoes score of 77% and an IMDb score of 6.7/10.
The Shallows was a success in the cinema, taking in $54.8M at the US box office and almost as much internationally, against a budget of $17M.
Planned features for the disc include a 1080p video encode presented at 2.39:1, with lossless 5.1 DTS-HD Master Audio soundtrack.
The 4K Ultra HD edition will feature Dolby Atmos object based audio for the premium experience.
Deleted scenes and a collection of featurettes are also planned.
The retail price is $34.99, and you can pre-order it from Amazon for $19.99, saving 43%!
Alternatively you can add it to your Blu-rayStats Wishlist.
The retail price for the Ultra HD is $45.99, at Amazon for only $26.99 (Blu-rayStats Wishlist).
The Shallows Blu-ray Extras:
Deleted Scenes
Shooting in The Shallows
How to Build a Shark
Finding The Perfect Beach: Lord Howe Island
When Sharks Attack
The Shallows Blu-ray Synopsis:
Nancy (Blake Lively) is surfing alone on a secluded beach when she is attacked by a great white shark and stranded just a short distance from shore. Though she is only 200 yards from her survival, getting there proves the ultimate contest of wills.