Posted in
Blu-ray
,
Fantasy
,
Music
,
Musical
,
Pre-orders
,
Romance
,
Universal
on February 15th, 2016 by Dave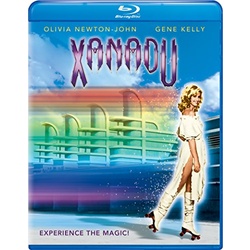 March 8th, 2016 will mark the arrival of the new Universal Studios Home Entertainment Xanadu Blu-ray release.
This musical fantasy film was written by Richard Christian Danus and Marc Reid Rubel.
The title refers to the nightclub in the film, and comes from the poem Kubla Khan by Samuel Taylor Coleridge.
The film features music by Newton-John, Electric Light Orchestra, Cliff Richard, and The Tubes.
The movie also features animation by Don Bluth.
Somewhat of a box office flop, Xanadu was an inspiration for the creation of the Golden Raspberry Awards.
While the film didn't do so well, the soundtrack album became a huge commercial success around the world.
The cast includes Olivia Newton-John, Michael Beck, the legendary Gene Kelly, Katie Hanley and James Sloyan.
Xanadu was directed by Robert Greenwald.
The film had a generally poor critical reception, with a Rotten Tomatoes score of 39% and an IMDb score of 5/10.
Xanadu went on to earn $22.8M at the US box office.
Planned features for the disc include a 1080p video encode presented at 1.85:1, with lossless 5.1 DTS-HD Master Audio soundtrack.
A retrospective documentary and the theatrical trailer are also planned.
The retail price is $14.98, and you can pre-order it from Amazon for $9.99, saving 33%!
Alternatively you can add it to your Blu-rayStats Wishlist.
Xanadu Blu-ray Extras:
Theatrical Trailer
Going Back to Xanadu
Xanadu Blu-ray Synopsis:
Step into a magical world with superstars Olivia Newton-John (Grease) and Gene Kelly (Singin' in the Rain) as they take you through one of the most extraordinary musicals in the beloved film, Xanadu! A beautiful muse is sent from up above to inspire a struggling artist and help motivate him to open a roller-disco. The dazzling soundtrack includes the hit songs "Magic," "I'm Alive," "All Over the World," "Suddenly" and the title song "Xanadu." Throw on your roller-skates, turn up the volume and enjoy this sparkling out-of-this world fantasy!