Posted in
Animation
,
Blu-ray
,
Disney
,
Family
,
Fantasy
,
Musical
,
Pre-orders
,
Romance
on December 14th, 2015 by Dave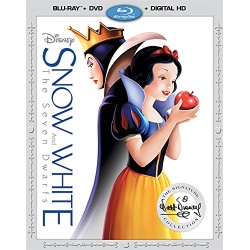 February 2nd, 2016 will mark the arrival of the new Walt Disney Studios Home Entertainment Signature Edition Blu-ray release for Snow White and the Seven Dwarfs.
This animated musical fantasy was originally released by RKO Radio Pictures in 1937.
Based on the German fairy tale by the Brothers Grimm, it was the first full-length cel animated feature film, and as such was the first in the Walt Disney Animated Classics series.
With international earnings of $8 million during its initial release, the film briefly held the record for highest grossing sound film.
The movie has been re-released theatrically many times, up until its home video release in the 1990s.
In 1989, the United States Library of Congress deemed the film "culturally, historically, or aesthetically significant".
The voice cast includes Adriana Caselotti, Lucille La Verne, Harry Stockwell, Roy Atwell, Pinto Colvig, Otis Harlan, Scotty Mattraw and Billy Gilbert.
The film received great reviews, with a Rotten Tomatoes score of 98% and an IMDb score of 7.7/10.
Planned features for the disc include a 1080p video encode presented at 1.33:1, with lossless 7.1 DTS-HD Master Audio soundtrack.
A number of new supplemental features are also planned for this release.
The retail price is $36.99, and you can pre-order it from Amazon for $24.99, saving 32%!
Alternatively you can add it to your Blu-rayStats Wishlist.
Snow White and the Seven Dwarfs Blu-ray Extras:
In Walt's Words: Snow White and the Seven Dwarfs – For the first time ever, hear Walt himself talk about Snow White.
Iconography – Explore how this film influences pop culture, art, and fashion.
@DisneyAnimation: Designing Disney's First Princess – Modern day Disney artists discuss the design of Snow White and how it influenced the look of some of your favorite Disney characters.
The Fairest Facts of Them All: 7 Facts You May Now Know About Snow White – Disney Channel star Sofia Carson reveals seven intriguing facts about Snow White.
Snow White in Seventy Seconds – Rap along with this hip reimagining of the story.
Alternate Sequence: The Prince Meets Snow White – A never–before-seen story board sequence where the Prince meets Snow White.
Snow White and the Seven Dwarfs Blu-ray Synopsis:
Forever enchanting and inspiring, Snow White And The Seven Dwarfs embodies The Walt Disney Signature Collection's legacy of animation. In this epic story of love and friendship, the kind and beautiful princess Snow White wins the hearts of the Seven Dwarfs and triumphs over the evil plans of a wicked Queen. Share the movie called "The Greatest Animated Film Of All Time," (American Film Institute) in High Definition Blu-ray and for the first time ever on Digital HD, with special features for the entire family!