Posted in
Blu-ray
,
Comedy
,
Comedy Central
,
Commentary
,
Paramount
on November 22nd, 2014 by Dave
Jeff Dunham: All Over the Map is the latest Jeff Dunham special for Comedy Central, released on Blu-ray by Paramount Home Entertainment on November 18th, 2014.
The special was released just days after the premiere on Comedy Central.
The film is part documentary and part performance as it follows Dunham and his family and crew on a world tour.
Jeff takes his wooden friends to places as diverse as Iceland, Norway, Abu Dhabi, United Arab Emirates, London, and Israel.
Jeff Dunham: All Over the Map the Movie
This comedy special follows Jeff Dunham as he tours the world performing his work, starting with a show in Iceland.
With segments from the shows inter-cut with other activities in the various cities, it is clear that Dunham has customized his act for each location.
Starting in Scandinavia and moving on to Ireland and the United Kingdom, Jeff and his crew continue on to the Middle East, Africa, Australia and Asia.
After this huge variety in show locations, Jeff finishes up his tour back on US soil in Hawaii.
Throughout the film we see promotional interviews and fun activities, including safari and playing with some young lion cubs.
The bookings in Asia presented special challenges with some of Dunham's characters posing concern to the local authorities.
Dunham was pretty much always on fire though, and delivered laughs to audiences across the globe.
It is great to see Dunham come such a long way in his career.
I have seen him play live and it is a great and funny show, and I was certainly impressed to see him use so much new and customized material on this tour.
It was certainly interesting to see how Achmed the Dead Terrorist played in the Middle East, both in Arabic countries and Israel.
Dunham is at the top of his game here, and is expertly skilled in retaining the illusion that his dummies are independent of him, even when he screws up.
The independent motion and back and forth banter is often obviously improvised, which is really impressive.
All in all, this is a must have for Jeff Dunham fans, and a good title to consider for fans of stand-up comedy in general.
The cast includes Jeff Dunham, along with is dummies Achmed the Dead Terrorist, Walter, Peanut, and Bubba J.
Jeff Dunham: All Over the Map was shot and directed by Rob Dipple.
Jeff Dunham: All Over the Map on Blu-ray Disc
The video on the disc is an AVC 1080p encode at 20 Mbps, and is presented at 1.78:1 aspect ratio, filling the HDTV screen.
The video quality varies depending on the source and available light.
For the most part the shows look quite clean though in some cases low light causes noise in the image.
Naturally being a comedy show, the image quality is not the most important, and you generally get excellent coverage of the proceedings.
For full resolution PNG screen captures taken directly from the disc, check out the details page for Jeff Dunham: All Over the Map.
The main audio is lossless 5.1 Dolby True HD with 24-bits resolution at 48 kHz.
The disc is a single layer BD25, with 22.7 GB used and is coded for All Regions.
Jeff Dunham: All Over the Map on Blu-ray Disc – The Bonus Features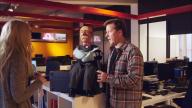 The disc features a number of short supplements that cover a variety of behind the scenes topics and events.
Road to Scotland is an interview with Dunham while on the bus in Scotland.
Dunham talks about his act and the half hour or so of material that is new and tailored to the various cities he is playing in.
Jeff talks to an aspiring ventriloquist in the segment Jeff Meets Some Competition.
Dunham not only talks to the young fan, but also shows him how the dummy works and signs the dummy as a memento.
Malaysia Warning is a radio appearance with Dunham on Malaysian radio.
Walter makes an appearance and the talk show takes place where the topics of discussion are very limited.
The construction of the alternate dummy for Malaysia is covered in Making Jaques.
Here we see the transformation with the new costume in progress.
Extreme Travel (0-110 Degrees) covers the wide range of locations and some of the extra-curricular activities the crew got up to.
Jeff Dunham: All Over the Map on Blu-ray – Final Thoughts
Jeff Dunham: All Over the Map is another great Comedy Central special from Jeff Dunham and his cast of characters.
Comedy Central has put together a pretty solid Blu-ray release, with a set of supplemental features for good measure.
The retail price is a fairly friendly $21.99, though you can get it at Amazon for $14.99, saving 32%!
Extras:
Road to Scotland
Jeff Meets Some Competition
Malasia Warning
Making Jaques
Extreme Travel (0-110 Degrees)
Synopsis:
Jeff Dunham and his iconic creations – Achmed the Dead Terrorist, Walter, Peanut, and Bubba J – embark on an unprecedented world tour where Dunham performs across five continents, logs almost 50,000 miles, and stars in arenas where dew American comedians have dared to perform. With his signature dysfunction family, Dunham has to be careful: tell the wrong joke in Singapore or United Arab Emirates and risk being handcuffed before you ever leave the stage; bring Achmed the Dead Terrorist on stage in Malaysia after a government warning forbidding his presence, and you may begin an indefinite vacation in Kuala Lumpur. Taped live on stage in a series of sold-out concerts, Jeff shows that humor is truly universal… most of the time.