Posted in
Blu-ray
,
Commentary
,
Warner
on December 22nd, 2013 by Dave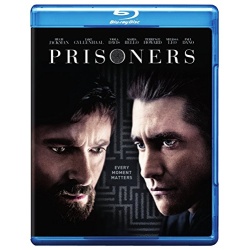 Prisoners is a new key thriller on Blu-ray this month, released by Warner Home Video on December 17th, 2013.
The movie is about the abduction of two young girls in Pennsylvania, and the lengths their parents go to find them.
The cast is strong and tension is maintained throughout.
That said, some scenes may be a bit gruesome for more sensitive viewers and it is definitely not for kids.
Prisoners the Movie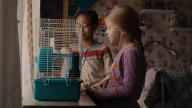 Keller Dover and his family attend a Thanksgiving dinner with his neighbors, the Birches.
After dinner, young Anna Dover and Joy Birch head back to the Dover residence to look for Anna's whistle, but they don't return.
Suspicion falls on a mysterious dilapidated RV that was parked in the neighborhood.
The police find the RV at a gas station next to a wooded area, but when they approach, the driver tries to escape.
Detective Loki questions Alex Jones, the RV's driver, but Alex is mentally challenged and is incapable of cooperating.
Eventually Jones is released while Loki pursues other avenues and questions other sex offenders in the area.
As part of his investigation Loki uncovers a corpse tied to a chair in the basement of a local priest, who claims that he imprisoned the man when he confessed to having killed a number of children.
When Alex Jones is released due to a lack of evidence, Keller Dover is convinced that they Police have freed the guilty offender, and takes matters into his own hands to find out where is daughters are.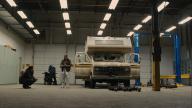 But could he be making a terrible mistake?
Prisoners is certainly one of the best thrillers I have seen in quite some time.
The film does a great job of maintaining suspense throughout and the characters are strong, deep and somewhat flawed in their own way.
The plot is also strong with a number of twists to keep you guessing, and for the most part it is tied up nicely by the end of the film.
The mood of the film is distinctly low key, with not only the main story being disturbing and serious, but everything about the set design and even the weather playing its part to dampen the mood.
I highly recommend this to crime thriller fans, though it does get a bit messy, so more sensitive viewers might find it tough going.
For fans of the genre though I would call this one a must see.
The cast does a great job here. and includes Hugh Jackman, Jake Gyllenhaal, Viola Davis, Maria Bello, Terrence Howard, Melissa Leo and Paul Dano.
Prisoners was directed by French Canadian Denis Villeneuve, who also helmed Incendies and is certainly going to be one to watch here on out.
Reviews for the movie were excellent, with a Rotten Tomatoes score of 81% and an IMDb score of 8.1/10.
Prisoners also did very well in the cinema, earning $60.8M at the US box office and roughly the same in international markets.
Prisoners on Blu-ray Disc
The video on the disc is an AVC 1080p encode at 20 Mbps, and is presented at 1.78:1 aspect ratio, filling the HDTV screen.
A lot of the movie is dark, though the mood is captured in a solid transfer that is solid throughout.
You really feel the cold and damp of the setting as the film plays out.
Find full resolution PNG screen captures taken directly from the disc at the details page for Prisoners.
The main audio is lossless DTS-HD Master Audio with 5.1 channels – 24 bits resolution at 48 kHz.
The disc is a dual layer BD50, with 32.5 GB used and is coded for All Regions.
Prisoners on Blu-ray Disc – The Bonus Features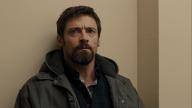 The only supplements included with this release are a pair of behind the scenes featurettes with a different focus.
Every Moment Matters delves into the plot line of the movie and the urgency to find the missing girls.
The characters and casting are then covered in more depth Powerful Performances.
The cast weigh in on their characters in this longer segment.
Each of them respond to the abduction in a different but human way, resulting in a very demanding role for each actor in the film.
This release includes a DVD Copy for legacy players and an UltraViolet Digital Copy code.
Prisoners on Blu-ray – Final Thoughts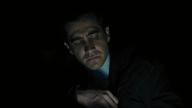 Prisoners is an excellent though violent crime thriller that I highly recommend to fans of the genre.
Warner Home Video has put together a technically solid Blu-ray release though the supplements are somewhat thin on this title.
The retail price is $35.99, or order it right now at Amazon for $22.99, saving 36%!
Extras:
Every Moment Matters
Powerful Performances
Synopsis:
How far would you go to protect your family? Keller Dover (Hugh Jackman) is facing every parent's worst nightmare. His six-year-old daughter, Anna, is missing, together with her young friend, Joy, and as minutes turn to hours, panic sets in. The only lead is a dilapidated RV that had earlier been parked on their street. Heading the investigation, Detective Loki (Jake Gyllenhaal) arrests its driver, Alex Jones (Paul Dano), but a lack of evidence forces his release. As the police pursue multiple leads and pressure mounts, knowing his child's life is at stake the frantic Dover decides he has no choice but to take matters into his own hands. But just how far will this desperate father go to protect his family?