Posted in
Anchor Bay
,
Blu-ray
,
Pre-orders
on December 6th, 2013 by Dave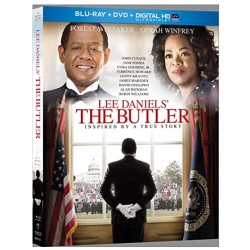 Be sure to watch for the upcoming Anchor Bay Entertainment Blu-ray release Lee Daniels' The Butler – on Blu-ray Disc January 14th, 2014.
This historical fiction drama film was written by Emmy award winning Danny Strong and was also the last film produced by Laura Ziskin.
The movie was loosely based on the life of Eugene Allen and tells of a White House butler who witnesses key events of the century.
The cast includes Forest Whitaker, Oprah Winfrey, Robin Williams, John Cusack, Alan Rickman, Liev Schreiber, James Marsden and Jane Fonda.
Lee Daniels' The Butler was of course directed by Lee Daniels, who was the man behind films like Precious: Based on the Novel Push by Sapphire and The Paperboy.
Reviews for the film were predominantly positive, with a Rotten Tomatoes score of 74% and an IMDb score of 6.8/10.
Lee Daniels' The Butler was a big success in the cinema, reaching $115.7M at the US box office against a budget of $30 million.
Expect a 1080p video encode with lossless 5.1 DTS-HD Master Audio.
Supplements including. featurettes, a music video, deleted scenes and a gag reel are also planned.
The retail price is $39.99, or pre-order it from Amazon for $29.96, saving 25%!
Alternatively you can add it to your Blu-rayStats Wishlist.
Synopsis:
Lee Daniels' The Butler tells the story of a White House butler who served eight American presidents over three decades. The film traces the dramatic changes that swept American society during this time, from the civil rights movement to Vietnam and beyond, and how those changes affected this man's life and family. Forest Whitaker stars as the butler with Robin Williams as Dwight Eisenhower, John Cusack as Richard Nixon, Alan Rickman as Ronald Reagan, James Marsden as John F. Kennedy, Liev Schreiber as Lyndon B. Johnson, and many more. Academy Award nominated Lee Daniels (Precious) directs and co-wrote the script with Emmy award winning Danny Strong (Game Change).