Posted in
Blu-ray
,
Pre-orders
,
Sony
on December 2nd, 2013 by Dave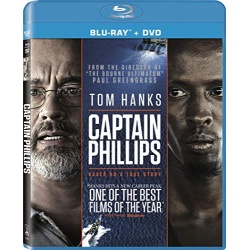 Sony Pictures Home Entertainment Blu-ray has scheduled the Blu-ray release for Tom Hanks film Captain Phillips on Blu-ray Disc January 21st, 2014.
The movie is an action thriller film based on the real life experiences of merchant mariner Captain Richard Phillips.
Phillips was taken hostage by Somali pirates during a hijacking in 2009.
The screenplay was based upon the book by Richard Phillips and Stephan Talty.
Tom Hanks was the lead actor with support from Barkhad Abdi, Barkhad Abdirahman, Faysal Ahmed, Mahat M. Ali, Michael Chernus and Corey Johnson.
Captain Phillips was directed by Paul Greengrass, who is perhaps most famous for The Bourne Ultimatum and The Bourne Supremacy, though also directed Green Zone and United 93.
The movie was met with strong reviews, with a Rotten Tomatoes score of 94% and an IMDb score of 8.1/10.
Captain Phillips was also a success in the cinema, reaching $102.7M at the US box office.
While the details are not clear yet, as a Sony title it is pretty safe to assume a 1080p encode presented at 2.40:1 with lossless 5.1 DTS-HD Master Audio.
A filmmaker commentary and a set of featurettes is also planned for this release.
The retail price is $40.99, or pre-order it from Amazon for $36.89, saving 10%!
Alternatively you can add it to your Blu-rayStats Wishlist.
Extras:
Capturing Captain Phillips Embarkation
Capturing Captain Phillips Full Ahead
Capturing Captain Phillips Stand Fast
Filmmaker Commentary
Synopsis:
Captain Phillips is a multi-layered examination of the 2009 hijacking of the U.S. container ship Maersk Alabama by a crew of Somali pirates. Based on a true story, the film focuses on the Alabama's commanding officer, Captain Richard Phillips (two-time Academy Award-winner Tom Hanks, Best Actor, 1993, Philadelphia; Best Actor, 1994, Forrest Gump), and the Somali pirate captain, Muse (Barkhad Abdi), who takes him hostage. The two men are set on an unstoppable collision course when Muse and his crew target Phillips' unarmed ship; in the ensuing standoff, both men will find themselves at the mercy of forces beyond their control.