Posted in
Blu-ray
,
Pre-orders
,
Sony
on November 27th, 2013 by Dave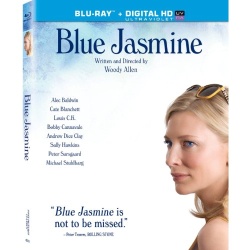 Woody Allen's latest movie Blue Jasmine has been announced by Sony Pictures Home Entertainment, scheduled for a January 21st, 2014 release.
This comedy drama film is about a wealthy Manhattan socialite falling on hard times.
After a limited release in Los Angeles and New York City, the film was opened to a wider release a month later.
It was in fact Woody Allen's best-ever opening per-screen average box office.
The cast includes Cate Blanchett, Alec Baldwin, Bobby Cannavale, Louis C.K., Andrew Dice Clay, Sally Hawkins, Peter Sarsgaard and Michael Stuhlbarg.
Blue Jasmine was of course directed by Woody Allen, whose body of work includes Vicky Cristina Barcelona, You Will Meet a Tall Dark Stranger, Midnight in Paris, Annie Hall, Manhattan, New York Stories, and Hannah and Her Sisters.
The critical response to the film was very positive, with a Rotten Tomatoes score of 91% and an IMDb score of 7.7/10.
Blue Jasmine went on to earn $32.7M at the US box office.
Planned features for the disc include an 1080p encode presented at 2.40:1, and lossless 5.1 DTS-HD Master Audio.
A couple of cast interview segments are also planned.
The retail price is $35.99, or pre-order it from Amazon for $27.98, saving 22%!
Alternatively you can add it to your Blu-rayStats Wishlist.
Extras:
Notes From the Red Carpet – The cast discusses making the film and their take on the characters
Blue Jasmine Cast Press Conference with Cate Blanchett, Peter Saarsgard and Andrew Dice Clay
Synopsis:
Poignant, romantic, and mesmerizing, writer/director Woody Allen's latest masterpiece centers around Jasmine (Cate Blanchett), a former New York socialite teetering on an emotional tightrope, balancing between her troubled east coast past and a fresh start in San Francisco. Having moved into her sister's humble apartment, Jasmine ricochets between the tumultuous acceptance of her new limitations, and the dreams of reclaiming her past life's glamour. Join a powerful cast for an intimate portrayal of the battle between fantasy and reality which rages within us all.