Posted in
Blu-ray
,
Pre-orders
on September 5th, 2013 by Dave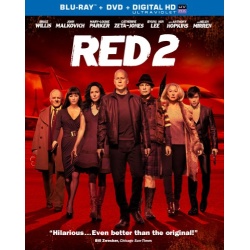 RED 2 has been announced by Summit Entertainment, scheduled for a November 26th, 2013 release.
This sequel to RED again features highly trained yet retired agents saving the world, though this time around the crew are being hunted down as suspected terrorists.
The cast includes Bruce Willis, John Malkovich, Mary-Louise Parker, Catherine Zeta-Jones, Byung-hun Lee, Anthony Hopkins and Helen Mirren, with many reprising their characters from the original.
Red 2 was directed by Dean Parisot, who was the man behind Galaxy Quest.
The movie has a middle of the road critical reception, with a Rotten Tomatoes score of 42%, while the public response was better with an IMDb score of 7/10.
Red 2 earned $52.3M at the US box office.
Planned features for the disc include an 1080p encode presented at 2.40:1, lossless 7.1 DTS-HD Master Audio.
The retail price is $39.99, or pre-order it from Amazon for $27.99, saving 30%!
Alternatively you can add it to your Blu-rayStats Wishlist.