Posted in
Blu-ray
,
Blu-ray 3D
,
Warner
on August 22nd, 2013 by Dave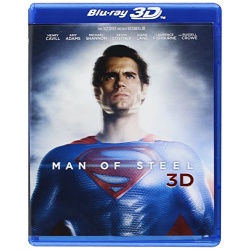 Man of Steel has just been announced by Warner Home Video for release on Blu-ray Disc and Blu-ray 3D November 12th, 2013.
This latest Superman film was produced by Christopher Nolan from a script by David S. Goyer.
The film is of course based on the DC Comics character Superman, and again portrays the character's origin story.
Man of Steel is intended to launch a shared universe for DC Comics film characters.
The cast includes Henry Cavill in the lead role, along with Amy Adams as Lois Lane, with supporting roles by Michael Shannon, Diane Lane, Kevin Costner, Laurence Fishburne, Antje Traue and Ayelet Zurer.
Man of Steel was directed by Zack Snyder, who was also behind films like Dawn of the Dead, 300, Watchmen, Legend of the Guardians: The Owls of Ga'Hoole, and Sucker Punch.
A follow-up featuring Batman, portrayed by Ben Affleck, is planned for 2015.
Certainly some aspects of the movie were controversial for Superman fans.
The critical response to the movie was fairly middle of the road, with a Rotten Tomatoes score of 56%, while it has done better at the IMDb with a score of 7.6/10.
Man of Steel has had a great run in the cinema, earning $289.8M at the US box office alone.
I don't have any details on the audio yet but since this was Dolby Atmos in the cinemas, I am hoping for a 7.1 lossless audio soundtrack.
There will be a nice collection of supplements as well, including featurettes and a feature length experience called Journey of Discovery.
The retail price is $44.95, or pre-order it from Amazon for $29.99, saving 33%!
Alternatively you can add it to your Blu-rayStats Wishlist.
The retail price is for the regular Blu-ray is $35.99, and at Amazon for $24.99 (add it to your Blu-rayStats Wishlist).
Extras:
Journey of Discovery: Creating Man of Steel – This immersive feature-length experience allows you to watch the movie with director Zack Snyder and stars Henry Cavill, Amy Adams, Diane Lane and others as they share the incredible journey to re-imagine Superman.
Strong Characters, Legendary Roles – Explore the legendary characters of the Superman mythology and how they have evolved in this new iteration of the Superman story.
All-Out Action – Go inside the intense training regimen that sculpted Henry Cavill into the Man of Steel and Michael Shannon and Antje Traue into his Kyptonian nemeses. Includes interviews with cast and crew.
Krypton Decoded – Dylan Sprayberry (Clark Kent, age 13) gives the lowdown on all the amazing Krypton tech, weapons and spaceships featured in Man of Steel.
Planet Krypton – The world's first exploration of Krypton and its lost society.
Synopsis:
A young boy learns that he has extraordinary powers and is not of this Earth. As a young man, he journeys to discover where he came from and what he was sent here to do. But the hero in him must emerge if he is to save the world from annihilation and become the symbol of hope for all mankind.