Posted in
Blu-ray
,
Pre-orders
,
Universal
on August 17th, 2013 by Dave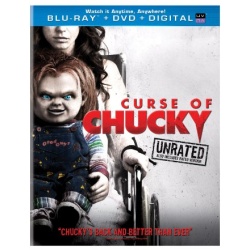 Horror fans will eagerly anticipate the upcoming Universal Studios Home Entertainment Blu-ray release for Curse of Chucky – on Blu-ray Disc October 8th, 2013.
The film is the sixth installment in the Child's Play franchise and the first direct-to-disc installment of the series.
The film was written and directed by Don Mancini, who created the franchise and has written all of the sequels in the franchise to date.
Curse of Chucky also looks to be returning to the horror elements found in the original three Child's Play films.
The cast includes Brad Dourif as the voice of Chucky, along with his daughter Fiona Dourif, Danielle Bisutti, A Martinez, Brennan Elliott and Chantal Quesnelle.
Curse of Chucky was directed by Don Mancini, who also directed Seed of Chucky.
Planned features for the disc include a 1080p encode presented at 1.78:1, along with lossless 5.1 DTS-HD Master Audio on a dual layer BD50.
A good number of supplements, including commentary, featurettes and additional footage,  are also planned for this release.
The retail price is $34.98, or pre-order it from Amazon for $23.99, saving 31%!
Alternatively you can add it to your Blu-rayStats Wishlist.
Extras:
Living Doll: Bringing Chucky to Life: Featuring the award-winning work of animatronics company Alterian, this featurette shows the pain-staking detail involved with bringing Chucky to life and the army of people behind the process.
Voodoo Doll: The Chucky Legacy: More than six films and a quarter of a century, Chucky, the possessed Good Guys doll, has been the playmate we love to hate. This featurette looks at why we're still frightened by the red haired terror and recalls some favorite moments from the previous films.
Storyboard Comparisons
Deleted Scenes
Gag Reel
Playing with Dolls: The Making of Curse of Chucky: From scripting, to casting to shooting, this featurette proves that playing with dolls is definitely not child's play! Follow the cast and crew of Curse of Chucky as they bring the newest and scariest chapter in the series to the screen.
Feature Commentary with Director Don Mancini, Puppeteer Tony Gardner and Star Fiona Dourif
Synopsis:
He's back! From the filmmakers that brought you Chucky comes the terrifying return of the pint-sized doll possessed by the spirit of a notorious serial killer. When a mysterious package arrives at the house of Nica (Fiona Dourif, True Blood), she doesn't give it much thought. However, after her mother's mysterious death, Nica begins to suspect that the talking, red-haired doll her visiting niece has been playing with may be the key to the ensuing bloodshed and chaos. The return of America's favorite toy, voiced again by Brad Dourif, is unrated and full of more blood-splattered thrills and chills.