Posted in
Blu-ray
,
Pre-orders
on August 15th, 2013 by Dave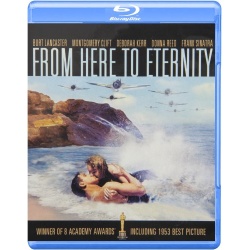 Sony Pictures Home Entertainment has scheduled a Blu-ray release date for the classic war film From Here to Eternity on Blu-ray Disc October 1st, 2013.
The movie covers the lives of three soldiers stationed on Hawaii in the months leading up to the attack on Pearl Harbor.
From Here to Eternity won eight Academy Awards including Best Picture, Best Director, Adapted Screenplay, Supporting Actor for Frank Sinatra and Supporting Actress for Donna Reed.
The cast additionally includes Burt Lancaster, Montgomery Clift, Deborah Kerr, Ernest Borgnine, Philip Ober and Jack Warden.
The screenplay was based on the novel of the same name by James Jones.
From Here to Eternity was directed by Fred Zinnemann, whose directing credits include People on Sunday and High Noon.
The critical response to the movie was very positive, with a Rotten Tomatoes score of 88% and an IMDb score of 7.8/10.
Planned features for the disc include an 1080p encode presented at 1.33:1 with lossless 5.1 DTS-HD Master Audio, and will be coded for All Regions.
Supplements will include an audio commentary and a new Graphics in Picture Track called Eternal History.
The retail price is a budget friendly $19.99, and it is available from Amazon for $14.99, saving 25%!
Alternatively you can add it to your Blu-rayStats Wishlist.
Extras:
Audio Commentary with Tim Zinnemann and Alvin Sargent
The Making of From Here to Eternity
Fred Zinnemann: As I See It
Eternal History: Graphics in Picture Track
Synopsis:
In this landmark film, passion and tragedy collide on a military base as a fateful day in December 1941 draws near. Private Prewitt (Montgomery Clift) is a soldier and former boxer being manipulated by his superior and peers. His friend Maggio (Frank Sinatra) tries to help him but has his own troubles. Sergeant Warden (Burt Lancaster) and Karen Holmes (Deborah Kerr) tread on dangerous ground as lovers in an illicit affair. Each of their lives will be changed when their stories culminate in the Japanese attack on Pearl Harbor.