Posted in
Blu-ray
,
Pre-orders
on August 10th, 2013 by Dave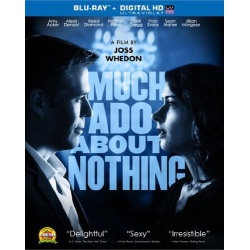 October 8th, 2013 will mark the arrival of the new Lionsgate Home Entertainment Blu-ray release for Joss Whedon's  Much Ado About Nothing.
This romantic comedy film was adapted for the screen from William Shakespeare's play of the same name.
Principal photography took place at Joss Whedon's residence, in Santa Monica California.
It was filmed entirely in a black-and-white.
The cast includes Amy Acker, Alexis Denisof, Reed Diamond, Nathan Fillion, Clark Gregg, Fran Kranz, Sean Maher and Jillian Morgese.
Much Ado About Nothing was directed by Joss Whedon, the man behind Firefly, Serenity, Dollhouse, and Marvel's The Avengers.
Reviews for the movie were excellent, with a Rotten Tomatoes score of 83% and an IMDb score of 7.5/10.
Much Ado About Nothing had a limited run in the cinema, earning $4.1M at the US box office.
Planned features for the disc include a 1080p encode presented at 1.78:1, lossless 5.1 DTS-HD Master Audio.
Supplements for this release (subject to change) include featurettes, a music video and commentary.
The retail price is $24.99, or pre-order it from Amazon for $17.49, saving 30%!
Alternatively you can add it to your Blu-rayStats Wishlist.
Extras:
Much Ado About Making Nothing featurette
Bus Ado About Nothing featurette
Audio commentary with screenwriter/director Joss Whedon and cast
Sigh No More music video
Synopsis:
Much Ado About Nothing is a contemporary spin on Shakespeare's classic comedy about sparring lovers Beatrice and Benedick – offering a sensual, tragic and occasionally absurd view of the intricate game that is love.