Posted in
3D
,
Blu-ray
,
Blu-ray 3D
,
Commentary
on April 22nd, 2013 by Dave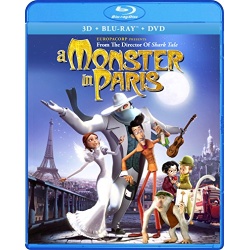 A Monster in Paris is a new animated 3D family movie released by Shout! Factory on April 16th, 2013 in the Blu-ray 3D format.
The French movie is set in Paris and tells of a mishap in a science lab that results in a monster on the loose in Paris.
While the movie was originally in French, it appears that the film has been reanimated for the English dialog.
Vanessa Paradis returns to play her original French role in English also.
A Monster in Paris the Movie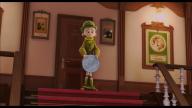 The movie opens in 1910, when the Seine river had burst its banks and the city of Paris suffered from extreme flooding.
Emile is a shy projectionist with a passion for film and film making.
He is also in love with Maud, his coworker at the cinema, but can't find the words to reveal his true feelings.
His best friend is an overconfident delivery driver and part time inventor named Raoul.
When Raoul helps Emile pick up a new belt for his projector, Emile also buys himself a hand cranked motion picture camera.
We are also introduced to Lucille, one of Raoul's childhood friends, who is a cabaret singer at a club called L'Oiseau Rare.
At the club Lucille's aunt Carlotta is eager to set her up with the wealthy Police commissioner Maynott, who is ambitious and proud.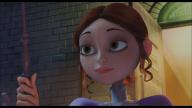 Raoul brings Emile on a delivery to the Botanical Gardens for a Professor who works there.
The professor is absent, but the laboratory is guarded by his assistant – a proboscis monkey named Charles.
Raoul takes advantage of the opportunity to experiment with some potions, including a mixture which gives Charles the monkey a tuneful voice and an unstable super fertilizer which grows giant sunflowers.
The giant plant is not stable though and as it falls the potions are mixed and explode.
While nobody is hurt, Emile is sure that he saw a strange creature escape the lab, and he may have caught it on his camera.
Sure enough, before too long people have observed the creature all over the city, and it becomes clear that there is a monster in Paris!
However the creature, which was once a flea that lived on Charles, proves to have a lovely singing voice, and is befriended by Lucille and named Francoeur.
Can Emile, Raoul, Charles and Lucille save Francoeur from Maynott, who is hell bent on making is name by killing the monster?
All in all A Monster in Paris is a fun family film with in interesting premise and likable characters.
Set in the iconic city of Paris, the film features a lot of landmarks from the city of light.
The film is somewhat of a musical also, with a number of songs sung by Lucille and Francoeur.
On the down side, it does start off pretty slow.
Since the story has a lot of 'set up' to help us understand how it all fits, the opening tends to drag and we are a third of the way in before it gets its momentum going.
So while I think that the payoff is there, the pacing at the start could have been better.
The movie was originally made in French, though based on the accurate lip syncing it is safe to say that it was re-rendered for English.
As such the original French dialogue is not included here.
However Vanessa Paradis provided the English dialogue and songs for her character Lucille, and was joined by Adam Goldberg, Jay Harrington, Danny Huston, Bob Balaban, Medline Zima and Catherine O'Hara.
Sean Lennon provided the singing vocals for Francoeur.
A Monster in Paris was produced by Luc Besson and directed by Bibo Bergeron, whose previous credits include Shark Tale and The Road to Eldorado.
The movie has a very strong critical reception, with a Rotten Tomatoes score of 83%, while it was met with mixed public response with an IMDb score of 6.6/10.
A Monster in Paris on Blu-ray 3D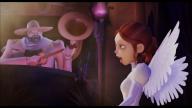 The video on the disc is a stereo MVC 1080p encode at 18 Mbps, and is presented in its original aspect ratio of 1.85:1.
Image quality is pretty strong here, though the film does have a soft and almost frosty look to it, perhaps as an homage to the early cinema.
The 3D presentation is seldom adventurous, though is solid throughout.
See the details page for A Monster in Paris for full resolution PNG screen captures taken directly from the disc.
The main audio is lossless DTS-HD Master Audio with 5.1 channels – 24 bits resolution at 48 kHz.
The disc is a single layer BD25, with 24.2 GB used and is coded for Region A.
A Monster in Paris on Blu-ray 3D – The Bonus Features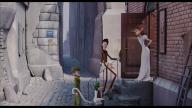 The only supplemental feature included here is the Trailer for the film.
However a DVD Copy is included for legacy players, and you can download a Digital Copy compatible with both Windows Media and iTunes.
A Monster in Paris on Blu-ray 3D – Final Thoughts
A Monster in Paris is a good family film set in the heart of France.
Shout! Factory has put together a tidy Blu-ray release for the film that includes all the formats you could want.
For a Blu-ray 3D title, the retail price is budget friendly at $24.97, though you can get it right now at Amazon for $18.99, saving 24%!
Extras:
Synopsis:
A wacky inventor, his camera-crazy best friend and a madcap monkey make a massive mistake when let loose in a mad scientist's laboratory. With lotions and potions spilling everywhere, the troublesome trio accidentally creates Franc, the product of a reaction between a common flea and one of the scientist's mystery concoctions. What they fail to realize, however, is that this 'monster' is actually a soft-centered soul with an astounding talent for music. With the help of an enchanting nightclub singer Lucille, Franc becomes the talk of the town, just as stories of Paris's newest monster attract the attention of the egotistical police commissioner, hell bent on securing a big prize to help his battle to become mayor. The unwitting scientists and the singer must team up to protect Franc, a monster with more than a musical career to protect!