Posted in
3D
,
Blu-ray
,
Blu-ray 3D
,
Commentary
on February 24th, 2013 by Dave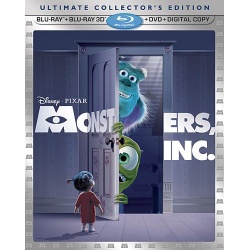 Walt Disney Studios Home Entertainment continues it's commitment to Blu-ray 3D with the February 19th release for Monsters, Inc.
The movie saw a theatrical re-release in December 2012 with the new 3D render of the film, along with a new 7.1 audio mix.
Disney is also taking advantage of this by releasing a new regular 2D Blu-ray version of the film that features the new soundtrack.
Prequel Monsters University is planned for theatrical release on June 21st.
Monsters, Inc. the Movie
The city of Monstropolis is the home of a wide range monsters and is powered by the screams of children from the human world.
At the Monsters, Inc. factory, special employees sneak into children's bedrooms to scare them and collect their screams.
This job is considered to be dangerous, since the monsters believe children to be toxic, and any contact with them would be fatal.
As children are becoming more difficult to scare, production is decreasing and and energy crisis is near.
The top 'Scarer' is "Sulley" Sullivan, who lives with his assistant Mike Wazowski, and races neck and neck with his rival, the chameleon-like monster Randall Boggs, for the new scaring record.
One evening Sulley discovers that a girl child has escaped the human world into the factory, and after failed attempts to put her back, he takes her in his bag and seeks help from his friend Mike.
Chaos ensues at the restaurant where Mike is on a date, and while the CDA is called, Sulley and Mike escape and take the girl home.
Sulley quickly grows attached to the girl and names her Boo, and they smuggle her into the factory where they try to return her to her home.
However instead they discover that Randall has a secret plan to kidnap children and take them to a torture chamber where their extensive screams can be extracted to maximum affect.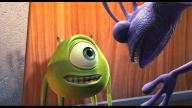 Can Sulley and Mike save Boo from Randall and his evil plans?
I will admit that when I first saw the concepts for this movie I was somewhat skeptical, though Pixar again made a great little film, as I was reminded in the recent theatrical re-release.
The movie has great pacing and as is typical for Pixar, a strong story with characters that resonate with the audience.
If you have never seen the film, it is a lot of fun and is suitable for all ages – if you have seen it you already know that it is a 'must own'.
The cast is lead by John Goodman and Billy Crystal, and additionally includes Steve Buscemi, Jennifer Tilly, James Coburn, Bonnie Hunt, and of course John Ratzenberger.
Monsters, Inc. was directed by Pete Docter, director of Pixar's Up, along with David Silverman and Lee Unkrich.
The film was met with strong reviews, with a Rotten Tomatoes score of 96% and an IMDb score of 8/10.
Monsters, Inc. has been a hit at the cinema, earning almost $290M at the US box office.
Monsters, Inc. on Blu-ray 3D
The video on the disc is an AVC 1080p encode at 24 Mbps, and is presented in its original aspect ratio of 1.85:1.
As you would expect, Disney has done another top notch transfer for Monsters, Inc.
The stereo 3D is also excellent and this release makes a great addition to the other Pixar titles for the Blu-ray 3D collector.
For full resolution PNG screen captures taken directly from the disc you can check the details page for Monsters, Inc..
The main audio is lossless Dolby True HD with 7.1 channels – 24 bits resolution at 48 kHz.
The disc is a dual layer BD50, with 45.0 GB used and is coded for All Regions.
Monsters, Inc. on Blu-ray 3D – The Bonus Features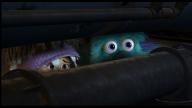 It is great to see that this release actually features some supplements in 3D.
Two of the shorts are presented in 3D – those being the original theatrical For The Birds and a Toy Story related short Partysaurus Rex.
There is also an Outtakes and Company Play segment presented in 3D.
The new regular Blu-ray that is included in the package has most of the same features as the original release, though again adds Partysaurus Rex.
Otherwise the supplements on this disc, and the second disc dedicated to extras, are essentially the same as the 2009 release.
The regular Blu-ray contains another short for based in the Monsters, Inc. universe titled Mike's New Car.
The production team discusses the ideas from the film as applied to the amusement park ride in Tokyo's Disneyland in Monsters, Inc. Ride and Go Seek: Building Monstropolis in Japan.
The Filmmaker's Round Table features a discussion between Pete Docter, Lee Unkrich, Darla K. Anderson, and Bob Peterson.
The feature film contains an optional audio commentary with Pete Docter, Lee Unkrich, Andrew Stanton, and John Lasseter.
The second Blu-ray disc is loaded with extras, including the interactive Roz 100-Door Challenge Game, where a series of questions are used to determine which occupation at Monsters, Inc. is the best fit.
You can check out the animation studio in the Pixar Fun Factory Tour with John Lasseter.
The Banished Concepts feature presents a number of sequences that were left out of the film, along with explanation from Lee Unkrich.
There are series of featurettes covering the storyline and treatment development, as well as a storyboard to film comparison that shows the progression for Boo's bedtime scene.
On the art design side there are an Art Gallery feature with concept art through to character art, a Designing Monstropolis feature, as well as set dressing and film location coverage.
Featurettes additionally cover casting for the voice talent, sounds design, and the release and premieres for the movie.
There is also a selection of short animated segments based in the Monsters world amd there are even a number of Easter Egg features to be hunted.
I think it is fair to say that there is more supplemental material here than most could ever ask for.
This release also includes a DVD Copy for legacy players and a Digital Copy for both Windows Media and iTunes.
Monsters, Inc. on Blu-ray 3D – Final Thoughts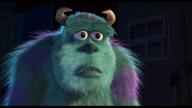 Monsters, Inc. is a gem of a movie from Pixar and belongs in every collector's movie library.
This new Blu-ray 3D release from Walt Disney Video Home Entertainment is exceptional and comes highly recommended.
It features both a strong technical presentation and a huge collection of extras and additional formats.
The retail price is $49.99, or order it right now at Amazon for $29.99, saving 40%!
Extras:
Monsters, Inc. Ride and Go Seek: Building Monstropolis in Japan
Filmmaker's Round Table
Audio Commentary
Toy Story Toons: Partysaurus Rex Short
For The Birds Short
Mike's New Car Short
All-New Roz 100-Door Challenge Game
Pixar Fun Factory Tour
Banished Concepts
Storyboard to Film Comparison
Art Gallery
Designing Monstropolis
Set Dressing Intro
Location Flyarounds
Monster File
Animation
Production Demonstration
Music & Sound
Release
New Monster Adventures
Behind the Screams
Orientation
Synopsis:
Experience the film that captured the hearts of critics and fans around the world in a breathtaking new way. Monsters, Inc. is "visually dazzling, action-packed and hilarious," raves The Boston Herald. Lovable Sulley (John Goodman) and his wisecracking sidekick Mike Wazowski (Billy Crystal) are the top scare team at Monster, Inc., the scream-processing factory in Monstropolis. When a little girl named Boo wanders into their world, it's the monsters who are scared silly, and it's up to Sulley and Mike to keep her out of sight and get her back home. Open the door to a phenomenal world of excitement and imagination that will have you screaming for more. Loaded with sensational bonus features, including the theatrical short "Partysaurus Rex," Monsters, Inc. is hours of fantastic family fun.