Posted in
Blu-ray
,
Pre-orders
,
Studios
on February 15th, 2013 by Dave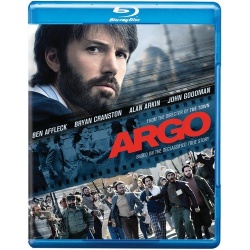 In anticipation of the Blu-ray combo pack release of Argo on February 19th, Warner has released a 28-minute video feature called ARGO: Declassified.
The short documentary is a special in-depth look at the real events that inspired the Academy Award nominated film (see video below).
The movie was met with very strong reviews, including a Rotten Tomatoes score of 96% and an IMDb score of 8.2/10.
The cast includes John Goodman, Ben Affleck and Bryan Cranston, and was also directed by Ben Affleck, whose films include Gone Baby Gone, ans The Town.
Both Affleck and the movie have done very well with awards, winning the AFI Film of the Year, the BAFTA for Best Film and Best Director, and Golden Globe for Best Motion Picture Drama and Best Director – Motion Picture.
Argo also earned $109.5M at the US box office.
The retail price for Argo is $35.99, or pre-order it from Amazon for $22.99.
Synopsis:
Based on real events, the dramatic thriller Argo chronicles the life-or-death covert operation to rescue six Americans, which unfolded behind the scenes of the Iran hostage crisis, focusing on the little-known role that the CIA and Hollywood played-information that was not declassified until many years after the event. On November 4, 1979, as the Iranian revolution reaches its boiling point, militants storm the U.S. Embassy in Tehran, taking 52 Americans hostage. But, in the midst of the chaos, six Americans manage to slip away and find refuge in the home of Canadian Ambassador Ken Taylor. Knowing it is only a matter of time before the six are found out and likely killed, the Canadian and American governments ask the CIA to intervene. The CIA turns to their top "exfiltration" specialist, Tony Mendez, to come up with a plan to get the six Americans safely out of the country. A plan so incredible, it could only happen in the movies.