Posted in
3D
,
Blu-ray
,
Blu-ray 3D
,
Pre-orders
on February 6th, 2013 by Dave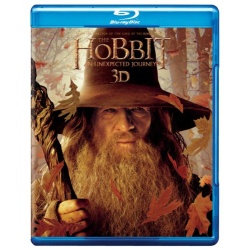 New Line Home Entertainment has announced the much anticipated Blu-ray 3D release for Peter Jackson's The Hobbit: An Unexpected Journey on March 19th, 2013.
The film is the first in a series of prequels to the The Lord of the Rings Trilogy and was originally supposed to be directed by Guillermo del Toro.
The epic trilogy will include The Desolation of Smaug and There and Back Again, that will see theatrical release at the end of 2013 and 2014 respectively.
The cast includes Ian McKellen, Martin Freeman, Graham McTavish, James Nesbitt, Richard Armitage and Ken Scott.
The Hobbit: An Unexpected Journey was of course directed by Peter Jackson, who was also directed King Kong, The Lord of the Rings: The Motion Picture Trilogy, The Lovely Bones, The Frighteners, Dead Alive, and Heavenly Creatures.
Reviews for the film were predominantly positive, with a Rotten Tomatoes score of 65%, though had an excellent IMDb score of 8.3/10.
The Hobbit: An Unexpected Journey was a big winner in the cinema, reaching $296.3M at the US box office alone.
Planned features for the disc include an 1080p encode with lossless DTS-HD Master Audio with 7.1 channels.
Now if only they can work out how to get a Dolby Atmos soundtrack onto Blu-ray!
Look for this one to be loaded with featurettes also.
The retail price is $44.95, though you can pre-order it from Amazon for $31.49, saving 30%!
Alternatively you can add it to your Blu-rayStats Wishlist.
The regular Blu-ray Combo pack will also be available, but has not yet been listed for Pre-order.
Synopsis:
The Hobbit: An Unexpected Journey is the first chapter in Peter Jackson's new epic trilogy set in Middle-Earth 60 years before J.R.R. Tolkien's The Lord of the Rings saga. Follow Bilbo Baggins as he's swept into a quest to reclaim the lost Dwarf Kingdom of Erebor, long ago conquered by the dragon Smaug. Approached by the wizard Gandalf the Grey, Bilbo finds himself joining a company of thirteen dwarves led by the legendary warrior Thorin Oakenshield. Their journey will take them through treacherous lands swarming with Goblins and Orcs, deadly Wargs, giant Spiders, Shapeshifters and Sorcerers. They must escape the goblin tunnels, where Bilbo meets the creature Gollum who will change his life forever. Alone with Gollum on the shores of an underground lake, the unassuming Bilbo Baggins not only discovers guile and courage that surprise him, he also gains possession of Gollum's "precious" ring that holds unexpected and useful qualities, tied to the fate of all Middle-Earth. Several key talent members from The Lord of the Rings trilogy reprise their roles, along with exciting new cast members.