Posted in
Blu-ray
,
Blu-ray 3D
,
Pre-orders
on February 2nd, 2013 by Dave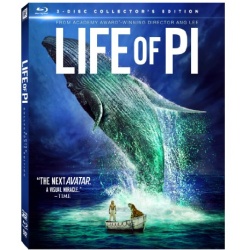 Be sure to watch for the upcoming Fox Home Entertainment Blu-ray release Life of Pi – on Blu-ray 3D and regular Blu-ray Disc March 12th, 2013.
The story involves a 16-year old Indian boy named "Pi" Patel, who survives a shipwreck and is stranded on a lifeboat with a Bengal tiger named Richard Parker.
Life of Pi was based on Yann Martel's 2001 novel of the same name and premiered at the New York Film Festival at the end of September 2012.
The principal role in the film was played by Suraj Sharma, but also featured Irrfan Khan, Tabu, Adil Hussain, Gerard Depardieu and Rafe Spall.
Life of Pi was directed by Ang Lee, the critically acclaimed director behind films like Brokeback Mountain, Taking Woodstock, Hulk, Ride with the Devil and Crouching Tiger, Hidden Dragon.
The movie received great reviews, with a Rotten Tomatoes score of 88% and an IMDb score of 8.2/10.
Life of Pi has earned eleven Academy Award nominations, including Best Picture, Best Director, Best Visual Effects, and Best Adapted Screenplay.
It also won the Golden Globe Award for Best Original Score.
Life of Pi was also a commercial success in the cinema, reaching $104.7M at the US box office, and four times that in international markets.
The retail price is $49.99, or pre-order it from Amazon for $29.99, saving 40%!
Alternatively you can add it to your Blu-rayStats Wishlist.
If you don't need the 3D, the regular Blu-ray release is currently at Amazon for $24.99 (Blu-rayStats Wishlist).
Synopsis:
Embark on the adventure of a lifetime in this visual masterpiece from Oscar winner Ang Lee, based on the best-selling novel. After a cataclysmic shipwreck, young Pi Patel finds himself stranded on a lifeboat with the only other survivor – a ferocious Bengal tiger named Richard Parker. Bound by the need to survive, the two are cast on an epic journey that must be seen to be believed.