Posted in
Blu-ray
,
Pre-orders
on January 25th, 2013 by Dave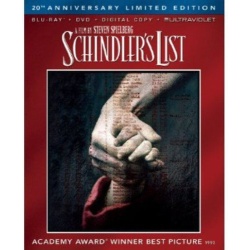 It is another good year for Spielberg fans with Universal Studios Home Entertainment's planned March 5th Blu-ray release for Schindler's List.
The film recounts the story of Oskar Schindler, a German businessman who saved the lives of  many Polish-Jewish refugees during the Holocaust by employing them in his factories.
Schindler's List is based on the novel Schindler's Ark by Australian novelist Thomas Keneally.
The cast includes Liam Neeson, Ralph Fiennes, Embeth Davidtz, Caroline Goodall, Ben Kingsley and Jonathan Sagalle.
Schindler's List director Steven Spielberg is of course the man behind Minority Report, War of the Worlds, Saving Private Ryan, The Color Purple, A.I. Artificial Intelligence, Hook, War Horse, E.T. the Extra-Terrestrial, Catch Me If You Can, Empire of the Sun, and Jurassic Park 3D.
The movie received exceptional reviews, with a Rotten Tomatoes score of 97% and an IMDb score of 8.9/10.
Schindler's List was also popular in the cinema, reaching $96.1M at the US box office.
Planned features for the disc include an 1080p encode presented at 1.85:1 and lossless DTS-HD Master Audio with 5.1 channels.
The package will also contain a DVD copy as well as a code for UltraViolet and Digital Copy.
The retail price is $34.98, or pre-order it from Amazon for $31.48, saving 10%, though I expect that price will drop closer to release day.
Alternatively you can add it to your Blu-rayStats Wishlist.
Synopsis:
Adapted from the novel by Thomas Keneally, Steven Spielberg's masterful film tells the incredible true story of the courageous Oskar Schindler (Liam Neeson). Initially a member of the Nazi party, the Catholic Schindler risks his career and life, and ultimately goes bankrupt, to employ 1,100 Jews in his crockery factory during the Holocaust. Schindler's Jewish accountant (Ben Kingsley) serves as his conscience, as Schindler conducts business with an obstinate and cruel Nazi commander (Ralph Fiennes), who viciously kills Jewish prisoners from the balcony of his villa overlooking a prison camp. Filmed entirely in black-and-white on location in Poland, Schindler's List does not downplay the faults of its magnanimous and unlikely hero, but relates a story of the triumph of the human spirit in the face of horrific devastation and tragedy.