Posted in
3D
,
Blu-ray
,
Blu-ray 3D
,
Commentary
on January 17th, 2013 by Dave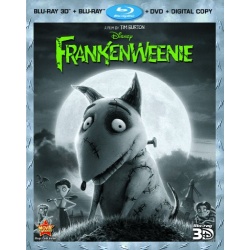 Tim Burton's latest stop motion film Frankenweenie was unleashed this month by Walt Disney Studios Home Entertainment on January 8th, 2013.
The film is a remake of Burton's 1984 short film of the same name and is an homage to the monster movies of the 30's, most obviously the 1931 film Frankenstein.
Frankenweenie was the first black-and-white feature film, as well as the first stop-motion film to be released in IMAX 3D in cinemas in October 2012.
Frankenweenie the Movie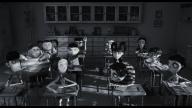 Elementary school student Victor Frankenstein has a flare for science and  film making.
His films star his dog Sparky, and he screens them for his parents Ben and Susan in the quiet town of New Holland.
Victor attends school with his next-door neighbor Elsa Van Helsing, mischievous hunchback Edgar "E" Gore, obese and gullible Bob, baseball pitcher Toshiaki, tall and gloomy Nassor, and a weird girl nicknamed Weird Girl.
He seldom socializes with the other kids though, preferring to spend time on science and making films with his dog.
To help him be more social, Victor's father makes a deal with him to take up baseball in return for permission to enter the science fair.
At the first game Victor hits a home run, though Sparky chases the ball and is accidentally killed by a car.
Inspired by his science teacher's demonstration of the effect of electricity on dead frogs, Victor exhumes Sparky's corpse and takes it to his makeshift laboratory in the attic, where he successfully reanimates Sparky using the lightning during a thunder storm.
While Victor tries to keep the undead dog hidden away, Sparky escapes from the attic and explores the neighborhood.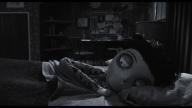 He is recognized by Edgar, who then blackmails Victor into teaching him how to raise the dead for his science fair project.
Victor and Edgar reanimate a dead goldfish, which turns invisible in the process of reanimation.
While Edgar is sworn to secrecy, he brags about the undead fish to Toshiaki and Bob, which leads to each of the kids attempting to reanimate creatures and pets of their own, with unpredictable results.
Frankenweenie is a fun and imaginative movie that draws heavily from the classic monster movies.
Rather than being scary though, the film is more comedic and in general plays well as a family film.
That said the climax of the movie might be a bit scary for the younger members of the family.
The film features movie references throughout, including Frankenstein, The Mummy, The Wolf Man, Dracula, The Invisible Man and Godzilla.
There are no doubt many other more subtle references, like the homage to In Cold Blood early in the film.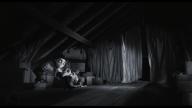 Technically speaking the film makers have done an excellent job with the stop motion animation for this film.
The models and puppets were all roughly a quarter real size, and as such everything that appears in the movie had to be created from scratch.
The locations and scenes are incredibly detailed and the 'crowd scenes' with a collection of independently moving puppets must have taken an age to create.
All that said, the technical aspects of the film are quickly taken over by the emotion of the story and we soon forget that we are watching stop motion.
Overall I greatly enjoyed the film, and I would say it is one of Burton's stronger works and should strongly appeal to his fans.
The voice cast includes Catherine O'Hara, Martin Short, Charlie Tahan, Martin Landau, Winona Ryder, Robert Capron and Atticus Shaffer.
Frankenweenie director Tim Burton of course has a massive body of work, including Corpse Bride, Big Fish, Edward Scissorhands, Beetlejuice, Batman, Alice in Wonderland, Pee-Wee's Big Adventure, Charlie and the Chocolate Factory, Dark Shadows and Ed Wood.
The film was loved by critics with a Rotten Tomatoes score of 89% and an IMDb score of 7.1/10.
Frankenweenie didn't perform as well in the cinema though, earning $34.8M at the US box office.
Frankenweenie on Blu-ray 3D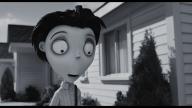 The video on the disc is an AVC 1080p encode at 30 Mbps, and is presented in its original aspect ratio of 1.85:1.
Since the movie was painstakingly shot frame by frame with still cameras, the image quality is excellent throughout.
The 3D effect on this release is also comfortable and enjoyable, and it is certainly interesting to see a black-and-white movie in 3D.
For full resolution PNG screen captures taken directly from the disc you can check the details page for Frankenweenie.
The main audio is lossless DTS-HD Master Audio with 7.1 channels – 24 bits resolution at 48 kHz.
The disc is a dual layer BD50, with 38.8 GB used and is coded for All Regions.
Frankenweenie on Blu-ray 3D – The Bonus Features
Aside from a couple of trailers in 3D, the Blu-ray 3D disc doesn't really hold any supplements, so as per usual you need to check out the regular Blu-ray Disc.
First up is a short 'made by Victor' called Captain Sparky vs. the Flying Saucers.
This runs just a couple of minutes and is a cute little story.
It is kind of amusing to see a stop motion movie made by a character in a stop motion movie!
The main behind the scenes featurette is called Miniatures in Motion: Bringing Frankenweenie to Life.
This supplement extensively covers the techniques used for making the film and includes pretty much all of the departments.
Here you can see how the puppets are made and then animated, as well as the extensive efforts that go into the miniature props and set design.
I would rate this as a must see if you have any interest at all in how the film was made.
The Frankenweenie Touring Exhibit covers the exhibit that was presented at Comic Con and on tour around the world.
The exhibit presents examples of the film's puppets, often presented in the sets along with the various props for a given scene or location.
The original 1984 live action Frankenweenie short runs around 30 minutes and features actors Shelley Duvall, Daniel Stern and child actor Barret Oliver.
It is really interesting to watch this and see the parallels to the new feature version, so I strongly recommend checking it out.
Some of the scenes in the new stop motion version are a direct copy of the original scenes from 1984.
Lastly there is the Plan White T's video for the song Pet Sematary, which places the band into the stop motion set of the movie.
This release also includes a Digital Copy for both Windows Media and iTunes as well as a DVD Copy for legacy players.
Frankenweenie on Blu-ray 3D – Final Thoughts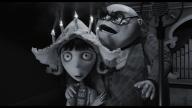 Frankenweenie is a great little film that will certainly appeal to Tim Burton and monster movie fans.
Walt Disney Studios Home Entertainment has put together a technically excellent release with a nice collection of supplements.
This release also covers all of the formats from Blu-ray 3D through to Digital Copy.
The retail price is $49.99, or order it right now at Amazon for $34.99, saving 30%!
Extras:
Original Short: Captain Sparky vs. the Flying Saucers
Miniatures in Motion: Bringing Frankenweenie to Life
Frankenweenie Touring Exhibit – Explore the Artistry of the Film's Puppets, Sets and Props in a Showcase That's Traveling the World
Original Live Action Frankenweenie Short
Plan White T's "Pet Sematary" Music Video
Synopsis:
Unleash all the thrills as Frankenweenie sparks to life, leaping off the screen right into your living room in thrilling Blu-ray 3D – the absolute best you can get at home. From Disney and creative genius Tim Burton (Alice In Wonderland, The Nightmare Before Christmas) comes the hilarious and offbeat, Frankenweenie, a heartwarming tale about a boy and his dog. After unexpectedly losing his beloved dog Sparky, young Victor harnesses the power of science to bring his best friend back to life – with just a few minor adjustments. He tries to hide his home-sewn creation, but when Sparky gets out, Victor's fellow students, teachers and the entire town learn that getting a new "leash on life" can be monstrous. Complete with electrifying bonus features, Frankenweenie is alive with enchanting fun for the whole family in eye-popping Blu-ray 3D!