Posted in
Blu-ray
,
Commentary
on January 2nd, 2013 by Dave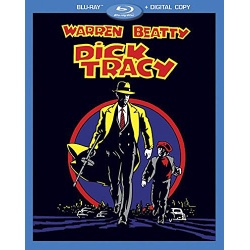 The 1930's crime movie Dick Tracy saw Blu-ray release December from Walt Disney Studios Home Entertainment with a December 11th release.
The film was based on the comic strips from the thirties, and was produced to have a comic book look and feel.
It also received seven Academy Award nominations, winning Best Original Song, Best Makeup and Best Art Direction.
Principal star Warren Beatty also directed.
Dick Tracy the Movie
As the movie opens, there is a gang war in progress between rival mobs.
It starts with the massacre of Shoulders, Stooge, the Rodent, the Brow and Little Face at the hands of Flattop and Itchy.
Alphonse "Big Boy" Caprice is behind the hit, as Big Boy's crime syndicate moves aggressively taking over the city.
Their only real obstacle is detective Dick Tracy, a law abiding cop who is determined to stay on the street and catch the bad guys.
Early on however he catches a street urchin in an act of petty theft, though rather than turn him over to the orphanage, Tracy and his girlfriend Tess Truehart  temporarily adopt him.
Meanwhile, Big Boy coerces club owner Lips Manlis into signing over the deed to Club Ritz, steals his girlfriend Breathless Mahoney and has him killed.
When Lips goes missing, Dick Tracy interrogates Big Boy's henchmen, and then goes to the club to arrest Big Boy for Lips' murder.
With Breathless as the only witness, Tracy has to convince her to testify against Big Boy.
All the while Big Boy is doing some house cleaning of his own, and Breathless is more interested in seducing Tracy than helping him out in court.
And yet another complication arises when a figure with no face and a mysterious agenda starts playing both sides of the game.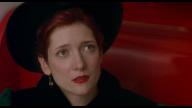 Can Dick Tracy put Big Boy away before the organized crime syndicate get the better of him?
Dick Tracy is a pretty fun action film that makes good use of comic book styling and never takes itself too seriously.
The artistic choice to use solid colours on everything in the film adds to the tone which carefully walks the line between reality and parody.
All in all the film delivers, maintaining a good level of 'suspension of disbelief' without crossing the line to the ridiculous.
Combining this with a good story, strong characters and some musical numbers performed by Madonna make for a well rounded movie.
The Academy also appreciated the style and music, giving the film Oscars for Best Original Song, Best Makeup and Best Art Direction.
Along with Warren Beatty and Madonna, the cast includes Al Pacino, Dustin Hoffman, Glenne Headly and Charlie Korsmo in the role of The Kid.
Dick Tracy was directed by actor  Warren Beatty, who also directed the movie Reds.
The film had a pretty strong critical reception with a Rotten Tomatoes score of 64%, though didn't do quite so well at the IMDb with a score of 6/10.
Dick Tracy did do well in the cinema though, earning $103.7M at the US box office, well in excess of the $46M budget.
Dick Tracy on Blu-ray Disc
The video on the disc is an AVC 1080p encode at 30 Mbps, and is presented in its original aspect ratio of 1.85:1.
The film holds up pretty well for a 20 year old movie, though a lot of it is dark and no doubt significant optical effects were used at times.
The high bitrate encode does a great job of preserving the film grain and as such this is a technically strong presentation.
You will find full resolution PNG screen captures taken directly from the disc at the details page for Dick Tracy.
The main audio is lossless DTS-HD Master Audio with 5.1 channels – 24 bits resolution at 48 kHz.
The disc is a dual layer BD50, with 31.8 GB used and is coded for All Regions.
Dick Tracy on Blu-ray Disc – The Bonus Features
This release does not feature any supplements on the Blu-ray Disc.
It does however include a Digital Copy for both iTunes and Windows Media.
Dick Tracy on Blu-ray – Final Thoughts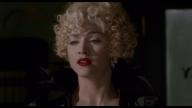 Dick Tracy is an enjoyable comic book based movie that is visually creative and enjoyable throughout.
Walt Disney Studios Home Entertainment presents a strong high definition transfer, though the release is devoid of supplemental features.
A Digital Copy is however included in the package.
The retail price is $26.50, and it is available at Amazon for $18.99, saving 28%!
Synopsis:
On Blu-ray for the very first time – and with new digital restoration – the visually bold and striking Dick Tracy packs a wallop with picture and sound as sharp as Tracy's jaw. Imaginative performances color this extraordinary action flick directed by and starring Oscar winner Warren Beatty (Best Director, Reds, 1981), Grammy winning singer Madonna, Oscar nominee Al Pacino (Best Supporting Actor, Dick Tracy, 1990) and Oscar winner Dustin Hoffman (Best Actor, Rain Man, 1988). When gang lord Big Boy Caprice unites the town's racketeers and gangsters, police detective Dick Tracy devotes his career to foiling the entire bunch of bad guys. Complete with richly evocative music – including Stephen Sondheim's Academy Award-winning "Sooner or Later (I Always Get My Man)" (Best Original Song, 1990), Dick Tracy is a stunner in Hi-Def Blu-ray.