Posted in
3D
,
Blu-ray
,
Blu-ray 3D
,
Commentary
on December 2nd, 2012 by Dave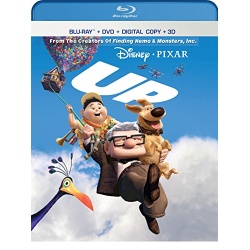 Fans of Pixar and 3D movies can look forward to Pixar's Up, coming out on the Blu-ray 3D format from Walt Disney Studios Home Entertainment on December 4th, 2012.
While this movie has already seen regular Blu-ray release, Disney has re-rendered the film in Stereo 3D for this new home theater release.
Up is a great family films that ask what it would be like to just float away from your problems?
Up the Movie
Carl Fredricksen is a young explorer who runs into the like minded adventurer Ellie and the two become friends.
Throughout their lives they plan great adventures but never seem to have the means to go.
Eventually Ellie passes away, leaving Carl alone in their house with a giant construction site looming all around.
After an altercation with one of the site workers, Carl is taken to court and deemed a public nuisance, and as such is placed in the care of the Shady Acres retirement home.
To escape this fate, Carl floats his house off the lot and heads to South America to fulfill his lifelong promise to Ellie.
Little does he know that a Wilderness Explorer named Russell has accidentally stowed away.
Once they arrive Carl continues with his goal to move the house next to Paradise Falls, and the two meet up with a talking dog named Dug and a large exotic bird that Russell decides to call Kevin.
However the discovery of Carl's adventurer hero Charles Muntz leads to strife for the team, causing Carl to question his goals and where his loyalties lie.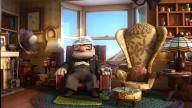 The characters and story-line are very strong in this film, and the result is a delightful and beautiful film that is fun for the whole family.
I was particularly impressed with how well they captured the spirit of the elderly and encompassed this in the character of Carl.
As I understand it the film makers spent a great deal of time observing their own grandparents for ideas for the character, and this attention to detail certainly paid off.
Up is an excellent movie and from my perspective is a must own title.
The voice cast for the movie includes Edward Asner, Christopher Plummer, Jordan Nagai, Delroy Lindo and John Ratzenberger.
Up was directed by Pete Docter and Bob Peterson, whose Pixar credits include Monsters, Inc.
Reviews for the film were excellent, with a Rotten Tomatoes score of 98% and an IMDb score of 8.3/10.
Up was saw fantastic success in the cinema, reaching $293M at the US box office.
Up on Blu-ray 3D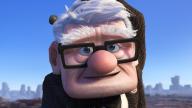 The video on the disc is an AVC 1080p encode at 24.5 Mbps, and is presented at 1.78:1 aspect ratio, filling the HDTV screen.
Perhaps needless to say, the image quality is stunning throughout, though I have to highlight how great this movie looks in 3D.
The new stereo 3D render has excellent depth and is present all the way to the end of the credits.
This new sense of depth enhances the whole film, and some scenes really pop with the new depth to them.
Find full resolution PNG screen captures taken directly from the disc at the details page for Up.
The main audio is lossless DTS-HD Master Audio with 5.1 channels – 24 bits resolution at 48 kHz.
The disc is a dual layer BD50, with 48.4 GB used and is coded for All Regions.
Up on Blu-ray 3D – The Bonus Features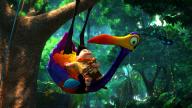 While the new Blu-ray 3D presentation for Up has no new supplements, it does include the original Blu-ray and supplemental Blu-ray of extras.
Special features are numerous and include Bonus View Picture in Picture streams and BD Live Network features.
The Cine-Explore feature The Making Of Up is a Picture in Picture commentary about the making of the movie presented by Pete Docter.
As with most Pixar releases, a short with the film's characters is present – this one is titled Dug's Special Mission.
The original short Partly Cloudy that screened in the cinema before Up is also included.
Over to the behind the scenes features, in Adventure is Out There the hunt for locations to inspire those in the film is discussed.
A pair of alternate scenes are presented, titled The Many Endings Of Muntz and Married Life.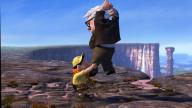 The supplement only disc includes a set of eight behind the scenes documentaries.
These featurettes chronicle the making of the film, covering all aspects of the movie from characters and story to technical aspects like set design and music.
On the interactivity side there is a BD Live Global Guardian Badge Game where viewers can fly around the world to answer questions and earn Wilderness badges.
A pair of theatrical trailers for the movie are also featured
This release additionally includes a DVD Copy for legacy players and a Digital Copy that supports both iTunes and Windows Media.
Up on Blu-ray 3D – Final Thoughts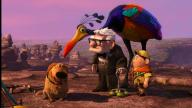 Up is an excellent film from the Pixar team and one I consider a must own for the movie library.
Disney has put together an excellent Blu-ray 3D release that is both technically strong and well featured.
In fact this new release retains all of the features from the first Blu-ray release, including the DVD and Digital Copy.
The retail price is $49.99, or pre-order it right now at Amazon for $27.99, saving 44%!
Extras:
Dug's Special Mission Short
Partly Cloudy Theatrical Short
Cine-Explore: The Making Of Up
Adventure is Out There
The Many Endings Of Muntz: Alternate Scenes
Global Guardian Badge Game
Married Life
8 Documentaries
Trailers
Synopsis:
Immerse yourself in a whole new dimension of family entertainment. Bring the 3D experience home with this hilariously uplifting adventure from the creators of Monsters, Inc. and Finding Nemo. Part rascal, part dreamer, retired balloon salesman Carl Fredricksen is ready for his last chance at high-flying excitement. Tying thousands of balloons to his house, Carl sets off to the lost world of his childhood dreams. but unbeknownst to Carl, Russell, an overeager 8-year-old Wilderness Explorer who has never ventured beyond his backyard, is in the wrong place at the wrong time – Carl's front porch! Experience every thrilling moment of their adventure as it comes to life before your eyes in spectacular Disney Blu-ray 3D – Magic In A New Dimension that will send your spirits soaring Up, up and away!