Posted in
Blu-ray
,
Blu-ray 3D
,
Pre-orders
on December 1st, 2012 by Dave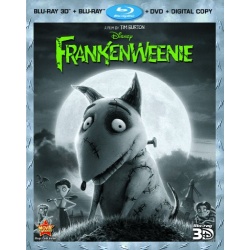 Tim Burton fans will be thrilled for the upcoming Walt Disney Studios Home Entertainment release for Frankenweenie on Blu-ray Disc and Blu-ray 3D January 8th, 2013.
Frankenweenie was a stop motion comedy-horror family film that was derived from Burton's original 1984 short film with the same name.
In the movie a young boy named Victor makes use the power of science to resurrect his dog Sparky.
Frankenweenie is presented in black and white and it was the first black-and-white feature film, as well as the first stop-motion film, to be released in IMAX 3D.
The voice cast includes Catherine O'Hara, Martin Landau, Martin Short, Winona Ryder and Robert Capron.
Frankenweenie was directed by Tim Burton, whose huge list of credits include Corpse Bride, Big Fish, Edward Scissorhands, Beetlejuice, Batman, Alice in Wonderland 3D, Pee-Wee's Big Adventure, Dark Shadows and Ed Wood.
The critical response to the film was very positive, with a Rotten Tomatoes score of 89% and an IMDb score of 7.6/10.
This release includes everything from Blu-ray 3D to Digital Copy.
The retail price is $49.99, or pre-order it from Amazon for $34.99, saving 30%!
Alternatively you can add it to your Blu-rayStats Wishlist.
If you don't need the 3D or Digital Copy, the retail price is $39.99,at Amazon for $27.99 (Blu-rayStats Wishlist).