Posted in
Blu-ray
,
Commentary
on June 1st, 2012 by Dave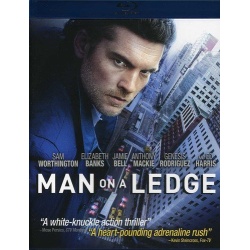 May 29th 2012 marked the arrival of the latest Summit Entertainment Blu-ray release Man on a Ledge.
This action thriller is set in New York and follows ex-cop Nick Cassady, who was convicted of a crime he didn't commit.
He aims to prove his innocence by standing on the ledge of a downtown Manhattan hotel and threatening to jump!
The movie was shot in late 2010 and released to cinemas in September 2011.
Man on a Ledge the Movie
The movie opens with Nick Cassady checking into the Roosevelt Hotel under a false name.
After having a lavish breakfast, he wipes his finger prints of everything he touched and climbs out the window to the ledge.
The crowd below sees his apparent suicide preparations and calls the police.
In a flashback we learn that Nick had been convicted of a crime and was set to serve 25 years in prison.
During a funeral for his father Nick had managed to escape custody and had been on the run ever since.
Back on the ledge, Nick says he will only speak to a negotiator named Lydia Mercer.
Mercer is on a leave of absence after failing to save a depressed policeman, who jumped from the Brooklyn Bridge a month earlier.
As the movie plays out, Lydia and the police must piece together the mystery of the man on the ledge – a man who will stop at nothing to prove his innocence one way or another.
It becomes clear soon enough that this is no typical suicide attempt, and for Nick's plan to work he must earn the trust of those who seek to bring him in.
Can Nick keep up the distraction long enough to allow his team to steal the evidence needed to prove his innocence?
Man on a Ledge is a fairly novel concept, though perhaps not a sufficient one to support a feature length film.
Like Phone Booth, having the 'action' confined to such a small area and cast of characters makes it difficult to hold interest.
That said I think the film did a pretty decent job of dealing with the limited setting.
The problems with the film lay more with the somewhat contrived plot and moments of comedic levity that fell rather flat.
As such, Man on a Ledge falls into the category of films where you enjoy the action as long as you don't think too deeply about it.
The cast predominantly featured Avatar's Sam Worthington and Elizabeth Banks, along with Jamie Bell, Génesis Rodríguez and Ed Harris.
Man on a Ledge was the first major feature movie directed by Asger Leth.
Critics mostly gave the film a hard time with a Rotten Tomatoes score of 31%, though it did better with the public, earning an IMDb score of 6.7/10.
Man on a Ledge didn't do so well in the cinema either, taking in $18.6M at the US box office – far short of its estimated $42M budget.
Man on a Ledge on Blu-ray Disc
The video on the disc is an AVC 1080p encode at 29.5 Mbps, and is presented in its original aspect ratio of 2.35:1.
The image quality is fair throughout, though the mute palette and lighting style is not especially appealing.
Of course these choices were made by the film makers and I feel that their choices were presented accurately on this transfer.
For full resolution PNG screen captures taken directly from the disc, check out the details page for Man on a Ledge.
The main audio is lossless DTS-HD Master Audio with 5.1 channels – 24 bits resolution at 48 kHz.
The disc is a dual layer BD50, with 31.0 GB used and is coded for Region A only.
Man on a Ledge on Blu-ray Disc – The Bonus Features
This release is fairly sparse when it comes to extras.
The main supplement is The Ledge featurette, which runs 15 minutes or so and covers the production of the film.
A trailer is also included, that can be played with a commentary by actress Elizabeth Banks.
Man on a Ledge on Blu-ray – Final Thoughts
Man on a Ledge is a mostly entertaining action thriller that is fine for a popcorn movie night.
The Blu-ray release from Summit Entertainment has a decent transfer though is very short on extras.
The retail price is $30.49, or order it right now at Amazon for $16.99, saving 44%!
Extras:
The Ledge Featurette
Trailer With Commentary By Elizabeth Banks
Synopsis:
In the film critics call a "white-knuckle action thriller," ex-cop Nick Cassidy (Sam Worthington, Avatar & Clash of the Titans) escapes from prison to plan the ultimate heist: steal a $40 million diamond from cutthroat businessman David Englander (Ed Harris), and in the process prove his innocence. From the ledge of the famous Roosevelt Hotel, with the whole world watching, Cassidy plays a clever game of cat & mouse with the NYPD while his dutiful brother Joey (Jamie Bell) works against the clock to extract the diamond and reveal the truth.