Posted in
Blu-ray
,
Commentary
on June 23rd, 2011 by Dave
Warner Home Video's latest day and date Blu-ray release is the Liam Neeson 'amnesia' thriller Unknown, which hit stores June 21st, 2011.
Liam Neeson plays Dr. Martin Harris, a researcher who is involved in a car accident that makes him question his recollection of who he really is.
The mystery deepens when he finds that he has been replaced by an imposter, and everyone recognises the other man as Dr. Martin Harris.
Unknown the Movie
Researcher Dr. Martin Harris and his wife Liz arrive in Berlin for a biotechnology summit where Harris is expected to conduct a presentation.
When they arrive at their hotel, Martin realizes he does not have his briefcase.
He immediately takes a taxi back to the airport, but on the way the cab crashes off a bridge into the river.
Martin is knocked unconscious upon impact, but Gina the cab driver saves him from drowning.
When he gains consciousness at the hospital four days later his memories are vague, though he insists on finding his wife back at his hotel.
Martin returns to the hotel, but discovers that another man claiming to be Martin Harris is with his wife, and Liz claims to not recognise him at all.
He then attempts to confirm his identity by contacting his old colleague Prof. Cole, but is not successful.
Martin goes to a meeting with the German Prof. Bressler, only to find that the imposter is already there.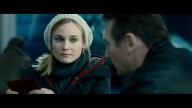 After returning to the hospital for another evaluation, Martin realizes that his life is in danger when an assassin attempts unsuccessfully to kill him.
With the help of a private investigator Martin fights to establish his identity and untangle the mysterious conspiracy that he has become involved in.
Overall the movie is a pretty decent thriller that ties up most of the loose ends once all the plot twists have played out.
The cinematography is quite striking, with a tendency towards unnatural lighting that plays into the confusing state of mind experienced by the protaganist.
The sound design is also pretty strong here, with muted audio used to good effect to represent the limited senses available to Martin.
Liam Neeson's performance is credible and in many ways the film's leans heavily on Neeson to carry it successfully.
Along with Neeson the cast includes Diane Kruger, January Jones, Aidan Quinn, Bruno Ganz, Frank Langella and Sebastian Koch.
Unknown was directed by Jaume Collet-Serra, who leans towards the darker films with credits like House of Wax and Orphan.
The movie received a middle of the road critical reception, with a Rotten Tomatoes score of 55%, while doing somewhat better at the IMDb with a score of 7/10.
Unknown was a minor success in the cinema, reaching $63.7M at the US box office and even better internationally, which is not too bad for a $40M estimated budget.
Unknown on Blu-ray Disc
The video on the disc is an AVC 1080p encode at 15 Mbps, and is presented in its original aspect ratio of 2.40:1.
While the bitrate is pretty low here, the image quality is actually pretty good.
The image is for the most part sharp and high contrast, and the edgy style that is used throughout translates well onto the small screen.
You will find full resolution PNG screen captures taken directly from the disc at the details page for Unknown.
The main audio is lossless DTS-HD Master Audio with 5.1 channels – 24 bits resolution at 48 kHz.
As is first evidenced by the low bitrate, Unknown was sadly given the Warner 'poor performer' treatment.
The disc is a single layer BD25, with 19.8 GB used and is coded for All Regions.
The extras are pretty thin here, limited to a pair of featurettes that run less than 5 minutes each.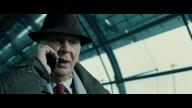 The Liam Neeson: Known Action Hero featurette covers the presence and charm that Liam Neeson exudes as an action leading man.
Some behind the scenes footage is presented, along with interviews with the cast and crew.
The second featurette is largely the same except that Unknown: What Is Known? focuses more on the other characters and aspects of the movie.
Nonetheless, there are a number of clips that are present in both featurettes.
Both segments are entertaining and being so short they are probably worth checking out.
As is the Warner way, this release includes a DVD copy as well as a Digital Copy for both Windows and iTunes.
Unknown on Blu-ray – Final Thoughts
Unknown is a pretty decent thriller that Liam Neeson carries well and the movie will likely appeal to fans of the genre.
The Blu-ray release from Warner Home Video has been held to fit on a single layer disc, though the image and sound quality are pretty strong.
The extras are very limited, but you do get the full array of formats included in the package.
The retail price is $35.99, and it is available at Amazon for only $22.99, saving 36%!
Extras:
Liam Neeson: Known Action Hero – Discover how the star of Unknown solidifies his action star status
Unknown: What Is Known? – Investigate the characters and plot of this international thriller
Synopsis:
The star of Taken and The A-Team jumps back into action with brute force! Liam Neeson plays Dr. Martin Harris, who awakens after a car accident in Berlin to discover that his wife (January Jones) suddenly doesn't recognize him and another man (Aidan Quinn) has assumed his identity. Ignored by disbelieving authorities and hunted by mysterious assassins, he finds himself alone, tired and on the run. Aided by an unlikely ally (Diane Kruger), Harris plunges into a deadly mystery forcing him to question his sanity, his identity and just how far he's willing to go to uncover the truth.