Posted in
Commentary
on March 8th, 2010 by Dave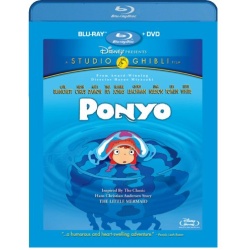 An intriguing new release this month is the animated Blu-ray title Ponyo, released by Walt Disney Studios Home Entertainment on March 2nd, 2010.
While we have seen Japanese animation released through Bandai and Funimation, I think this is one of the few cases where we have a major studio behind the genre.
In fact it would not surprise me to see Disney hoping to add another 'Pixar' to their animation stable.
Ponyo was produced by by Studio Ghibli in Japan, though it has also had an English audio overhaul for the US release of the movie.
The movie is loosely based on the Hans Christian Anderson story The Little Mermaid, and features the story of a goldfish with a human face who escapes her father and befriends a young human boy Sozuke.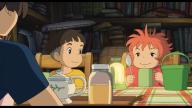 Sozuke names her Ponyo and the two become close friends.
While Ponyo's father seeks to return her to the sea, Ponyo has other ideas and ultimately wants to become a human child.
Through Ponyo's defiance and magic potions, huge storms envelop the region and disaster looms, with Ponyo and Sozuke holding the key to restoring balance to the oceans.
The film is a little 'trippy' and off the wall, though is great little story and is suitable for family members of all ages.
The animation style is colourful and bright, and overall I found it to be a fun film to watch.
Disney obviously put a lot of effort into the voice casting for the English soundtrack, with Noah Cyrus and Frankie Jonas voicing the main characters.
Adult voices were provided by Cate Blanchett, Liam Neeson, Matt Damon, Tina Fey, Cloris Leachman, Lily Tomlin and Betty White.
Ponyo was directed by Hayao Miyazaki, who won the 2002 Best Animated Film Oscar for his movie Spirited Away.
The movie was very well received by critics – it earned a Rotten Tomatoes score of 92% and IMDb score of 7.9/10.
Ponyo also had a small run in US cinema, reaching $15.1M at the domestic box office.
The video on the disc is an AVC 1080p encode at 22.5 Mbps, and is presented in its original aspect ratio of 1.85:1.
The Blu-ray presentation of the animation looks both colourful and sharp.
Find full resolution PNG screen captures taken directly from the disc at the details page for Ponyo.
The main audio is lossless DTS-HD Master Audio with 5.1 channels – 16 bits resolution at 48 kHz.
You can also watch with the original Japanese soundtrack with subtitles in English.
The disc is a dual layer BD50, with 44.3 GB used and is coded for All Regions.
This title comes with a good selection of supplements, including Bonus View Picture in Picture video.
The World Of Ghibli is an extensive feature that has two main sections.
One is a collection of behind the scenes featurettes, interviews and trailers, while the other is a more interactive Java based program with sections for a number of the Ghibli movies.
One of the interactive sequences asks you a series of questions and identifies which Ponyo character you are most like and tells you why.
Apparently I am most like Ponyo – must be the round belly!
It is nice to see the BD Java being put to good use on this release.
The Meet Ponyo featurette presents an introduction by the US producers through interviews and segments from the film.
The original storyboard presentation of the movie can be seen in an optional picture in picture window as the movie runs.
The package also includes a DVD of the movie for legacy DVD players.
It is great to see Japanese animation getting a wider release and no doubt if it is successful in the US market, we will see more Studio Ghibli titles from Disney.
Ponyo is also is another strong Blu-ray release from Walt Disney Studios Home Entertainment.
The retail price is $39.99, and it is available at Amazon for $24.99, saving 38%!
While Ponyo was the only Blu-ray Disc released from Ghibli, new special edition DVDs for Castle in the Sky, Kiki's Delivery Service and My Neighbor Totoro were released on the same day.
Extras:
The World Of Ghibli: Visit Ponyo In This Extraordinary Interactive Experience!
Meet Ponyo: Introduction By The Producers
Storyboard Presentation Of The Movie
Synopsis:
Welcome to a world where anything is possible! Academy Award-winning director Hayao Miyazaki (2002, Best Animated Feature, Spirited Away) and legendary filmmaker John Lasseter together with Disney bring to life a heartwarming and imaginative telling of Hans Christian Andersen's classic fairy tale The Little Mermaid. A young boy named Sosuke rescues a goldfish named Ponyo, and they embark on a fantastic journey of friendship and discovery before Ponyo's father, a powerful sorcerer, forces her to return to her home in the sea. In her quest to become human and reunite with Sosuke, Ponyo stumbles upon and releases her father's magical Water of Life and triggers a gigantic storm. Now balance must be restored to the world they all cherish. Ponyo will delight your family with its magnificent animation and timeless story.