Posted in
BD Live
,
Commentary
on January 5th, 2010 by Dave
December 22nd also marked the release of a new Blu-ray documentary title – It Might Get Loud released by Sony Pictures Home Entertainment.
The initial concept here was to make a documentary about the Electric Guitar, from the perspective of the people that play them.
The result however goes way beyond that, offering not only insight into how these musicians feel about the instrument, but also biographies of the men and selected segments of them jamming together.
The film making team arranged a meeting of three guitar virtuosos from different eras – Jimmy Page from Led Zeppelin, The Edge from U2 and Jack White of The White Stripes.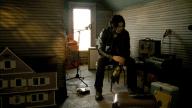 While all are successful guitarists, each has a distinctive style and offers different philosophies and approaches to the instrument and music in general.
Perhaps the most entertaining to be was Jack White, whose philosophy is to make things more difficult in order to strive for better.
All in all I found this to be a fairly entertaining documentary, one that I would recommend to music fans with an interest in the creativity of the folks behind the music.
It Might Get Loud was directed by Davis Guggenheim, who won an Academy Award for his work on An Inconvenient Truth.
The critical response to the movie was strong, with a Rotten Tomatoes score of 78% and IMDb score of 7.5/10.
As is typical for a documentary, the film had a small release in the cinema, earning $1.6M at the US box office.
The video on the disc is an AVC 1080p encode at 28 Mbps, and is presented at 1.78:1 aspect ratio, filling the HDTV screen.
The historical source material varies in quality, though the new footage was obvious shot in HiDef.
Check out the details page for It Might Get Loud to see full resolution PNG screen captures taken directly from the disc.
The main audio is lossless DTS-HD Master Audio with 5.1 channels – 24 bits resolution at 48 kHz.
The disc is a dual layer BD50, with 41.1 GB used and is coded for All Regions.
An audio commentary is included, featuring director Davis Guggenheim, producer Lesley Chilcott and producer Thomas Tull.
There is quite a selection of deleted scenes, including a number of performances that were omitted from the film.
An extensive press conference from the Toronto Film Festival offers more insight into the film and how it was made.
This title also features the BD Live Movie IQ feature, allowing background information on the cast and crew to be displayed while watching the film.
For me, It Might Get Loud was an enjoyable documentary, and Sony Pictures Home Entertainment has put together a tidy release with a pretty decent feature set for such a small film.
The retail price is $37.95, and available at Amazon for $23.99, saving 37%!
Extras:
Commentary With Director Davis Guggenheim, Producer Lesley Chilcott and Producer Thomas Tull
Toronto Film Festival Press Conference
Deleted Scenes
Movie IQ
Synopsis:
Unlike any other rock n roll documentary, It Might Get Loud gets three legendary guitarists – The Edge (US), Jimmy Page (Led Zeppelin) and Jack White (the White Stripes, The Raconteurs) – onto an empty soundstage to create an unparalleled music summit. In the process of jamming together they bring their own perspectives and craft, inspiration and how each use their own unique backgrounds in order to create their own musical rebellion and revolutionary sound.