Posted in
Commentary
on May 18th, 2009 by Dave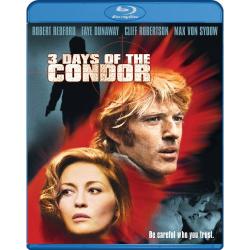 Fans of seventies spy thrillers will be happy to see that Three Days of the Condor is now available on Blu-ray Disc, released by Paramount Home Entertainment on Tuesday, May 19th.
With a lot of government scheming and secrecy in recent times, perhaps the time is right for a new release of this movie.
In this mid seventies thriller, Robert Redford plays the roll of Joey (code name Condor), the lone survivor of a professional hit on his covert CIA office.
While he is not a field agent, he uses his book smarts to stay alive and ahead of the men who are out to finish the job.
The tension is maintained throughout as the paranoia grows and we learn that nobody, least of all the CIA bosses, can be trusted.
There are excellent performances throughout, especially from Redford and Fay Dunaway, playing the woman Condor kidnaps during a bid to escape execution.
Sydney Pollack directed Three Days of the Condor as well as Tootsie and The Interpreter, and was last scene in an acting role in Made of Honor.
The critics certainly liked the movie – it has a Rotten Tomatoes score of 90% and an IMDb score of 7.5/10.
Three Days of the Condor also earned $27.5M at the US box office back in 1975.
The video on the disc is an AVC 1080p, encoded at an incredibly high 38.5 Mbps, and is presented in its original aspect ratio of 2.35.
While the bitrate is super high, the image won't win any prizes for sharpness, rather it maintains the film look with plenty of grain and the seventies style.
Check out the details page for Three Days of the Condor to see full resolution PNG screen captures taken directly from the disc.
The main audio is lossless Dolby True HD with 5.1 channels – 16 bits resolution at 48 kHz.
The disc is a dual layer BD50, with 41.2 GB used and is coded for All Regions.
The only extra on the disc is the theatrical trailer.
While the extras are sparse, Three Days of the Condor is a very enjoyable movie even 25 years after original release, and is a technically strong release  from Paramount Home Entertainment.
The retail price is $29.99, and it is available at Amazon for $19.99, saving 33%!
Extras:
Synopsis:
In Sydney Pollack's critically acclaimed suspense-thriller, Robert Redford (Spy Game) stars as CIA Agent Joe Turner. Code name: Condor. When his entire office is massacred, Turner goes on the run from his enemies…and his so-called allies. After reporting the murders to his superiors, the organization wants to bring Condor in – but somebody is trying to take him out. In his frantic hunt for answers, and in a desperate run for his life, Turner abducts photographer Kathy Hale (Faye Dunaway, The Thomas Crown Affair), eventually seducing her into helping him. Every twist leads Condor to the end of his nerves…and will take you to the edge of your seat. With nowhere to turn and no one to trust, Turner realizes his most dangerous enemy may be closer than he ever feared. And as he zeroes in on the truth, he discovers there are some secrets people would kill to keep.